Fastener Anchors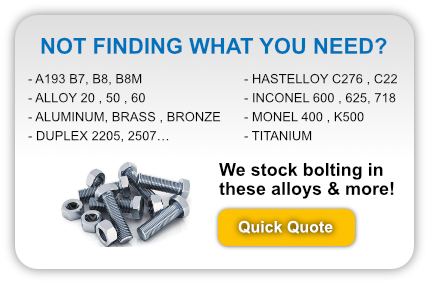 Metal fastener anchors and anchor bolts provide a practical solution for attaching one object to another, mainly when the surface object is hard and solid, such as stone brick, concrete or hollow like drywall.
At Fastener Solutions, we carry numerous fastener anchor products in a wide variety of materials, plating, grades or classes, thread pitches, as well as customized pieces. Choose from our full inventory below. We will work with you to choose the most effective and durable product for your application.
View our full washer product listing below, or contact our friendly and knowledgeable sales staff for more information 866-463-2910. Fastener Solutions is your trusted source for advanced grade metal and plastic fastener anchors and anchor bolt products, as well as fully customized and wholesale options.
Fastener Anchor Applications
The type of anchor that will be most suitable for an application will depend on the material and condition of the surface object, as well as the size, weight and directional force of the object being anchored. Fastener anchors can be attached to a wide variety of materials, including:
Brick
Concrete
Drywall
Stone
Plywood
Plaster
Wholesale Fastener Anchor Product Options
All Fastener Solutions anchors are available in a wide range of material options, including an assortment of exotic metals that have many different types of unique properties. If you cannot find the type of metal you're are looking for or have specific questions regarding our exotic metals, contact us or call us directly at 866-463-2910.
Concrete Anchor Screws
Concrete anchor screws do not use expansion as a way of holding the connected base material. Instead, concrete anchors have extremely sturdy high and low threads that dig deeply into the concrete as they are installed. Concrete anchor screws can also be removed and re-driven into the same holes.
Wedge Anchors
Wedge anchors (or expansion anchors) come supplied with a nut and a washer and are installed through pre-drilled holes. The anchor is initially inserted through the coupling material and into the drilled hole until the anchor threads are below the concrete surface. The nut is then tightened with a wrench, which wedges the clip portion of the wedge anchor between the concrete and the anchor shaft. The concrete wedge anchors' unique design allows it to successfully anchor fixtures into concrete. Wedge anchors are profoundly durable and provide extreme strength once installed.
Hollow Wall Anchors
Hollow wall anchors are a three-piece fastener consisting of a cylindrical expander shell with longitudinal sections of its shank removed. This design allows the shell to be pulled toward the head and form anchoring legs on the blind side of the assembly. Hollow wall anchors are primarily used to provide a stable mounting system in weaker base surfaces such as drywall and gypsum board. This type of anchor system can be installed in pre-drilled holes, and typically have gripping apparatus that expands behind the wall when fully installed to support the mounted fitting.
Sleeve Anchors
The sleeve anchor fasteners work by expanding against the material in which they are embedded. One advantage of the sleeve anchor is that it can be removed after it's been installed. Another benefit is that the length of the sleeve induces less stress on the substrate than a wedge anchor.
Conical Plastic Anchors
Conical plastic anchors can be used for a wide variety of applications in many different materials from concrete to plaster to tile. The molded collar allows these anchor fasteners to be used in hollow materials and can be used with either wood or sheet metal screws.
Hammer Drive Anchors
Hammer drive fasteners are set by using a hammer to expand them, or to insert them into a predrilled hole in concrete, brick, or block base material. The advantages include ease of installation, immediate loading capabilities and the tamper-resistant nature of the finished assembly.
Machine Screw Anchors
Machine screw anchors provide quick setting in brick, concrete, or stone. The lead shield's malleability enables it to fill uneven or irregular spots in the hole. When tamped, the expansion sleeve holds the expander inside the hole in the masonry, equally distributing the load around the anchor.
Anchor Bolts
Anchor Bolts are typically used for a variety of projects from standard architecture to dam repair to nuclear power plant construction. As anchor fasteners are typically embedded in a substrate by physical or chemical means, these bolts have a threaded shaft exposed above the surface ensuring proper attachment of a structure or object to concrete.
Lag Screw Shield
Lag Shields are medium-duty anchors which expand to fill the area of the pre-drilled hole when a lag screw is tightened into the shield. Extra-long sizes are for use in mortar or brick. Standard lengths are intended for use in concrete.
Drop In Anchors
Drop in anchors are manufactured from stainless steel and zinc, are internally threaded, and are suitable for flush mount applications in solid base materials.
U Drive
A U-Drive anchor system is a quick, easy, and economical method for securely fastening insulation panels used in conjunction with stress plates. The anchor can be used in concrete, block, brick, or stone.
Expansion Shield Anchor
Designed for concrete, block, brick and stone, the Machine Bolt Single Expansion Shield consists of an internally machine screw threaded expander cone and a set of expansion shields.
Toggle Wing
Toggle wing anchors are designed for paneling, wallboard and solid masonry that is screw actuated (screw not supplied). They can be easily adjusted to accommodate wall thickness.
Wood Screw Anchors
Wood screw anchors are used exclusively with wood screws, lags and tapping screws for light duty applications in brick, block, drywall, masonry, or concrete. These anchors will conform to irregular, out-of-round holes.
Mungo Products
Mungo metal and plastic products allow for convenient and easy anchoring. Browse our selection of Mungo products including: Anchors, Screws, Plugs, Jet Plugs and Nylon Plugs.
Nylon Nail Anchors
Nylon nail anchors are installed by inserting the end of the nylon shank into a pre-drilled hole and hammering the head of the nail until it meets the head of the anchor body. This type of light duty anchor is manufactured for use in solid materials such as concrete, brick and block.
E Z Anchor
The E Z Anchor is a one piece self-drilling anchor designed for optimal hold performance in drywall and other plaster materials.
Eye Couplings
When you need heavy-duty eye couplings and threaded fasteners, we have the products you need to get the job done. Eye couplings are offered in a range of materials, sizes, and coatings.
Custom Anchor Fastener Product Options
At Fastener Solutions, we provide a wide range of metal and plastic fastener anchor product options, including custom, wholesale, and exotic metal products. We can match your fastener anchor bolt needs with a metal that is right based on your project's specifications.
Contact Fastener Solutions for Fastener Anchors Today
Contact us for more information regarding our metal and plastic fastener anchor options including concrete anchors, wedge anchors, wall anchors and more. Complete customization of your fastener screw needs is also available. All our anchors are available in a wide variety of material options, including exotic metals. You can also request a quote or call us directly at 866-463-2910 with any questions you may have.
For large scale orders, request a quote to receive our best pricing available for your custom order.