Fastener Anchors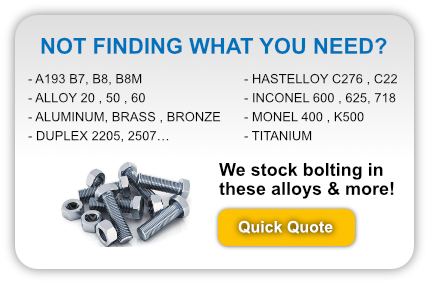 Metal fastener anchors and anchor bolts provide a practical solution for attaching one object to another, mainly when the surface object is hard and solid, such as stone brick, concrete, or hollow like drywall.
At Fastener Solutions, we carry numerous fastener anchor products in a wide variety of materials, plating, grades or classes, thread pitches, as well as customized pieces. Choose from our full inventory below. We will work with you to choose the most effective and durable product for your application.
View our full washer product listing below, or contact our friendly and knowledgeable sales staff for more information 866-463-2910. Fastener Solutions is your trusted source for advanced grade plastic and metal fastener anchors and anchor bolt products, as well as fully customized and wholesale options.
For large scale orders, request a quote to receive our best pricing available for your custom order.
Fastener Anchor Applications
The type of anchor that will be most suitable for an application will depend on the material and condition of the surface object, as well as the size, weight, and directional force of the object being anchored. Fastener anchors can be attached to a wide variety of materials, including:
Brick
Concrete
Drywall
Stone
Plywood
Plaster
Wholesale Fastener Anchor Product Options
All Fastener Solutions anchors are available in a wide range of material options, including an assortment of exotic metals that have many different types of unique properties. If you cannot find the type of metal you're are looking for or have specific questions regarding our exotic metals, contact us or call us directly at 866-463-2910.
Concrete Anchor Screws