Choose Fastener Solutions as Your Inconel Supplier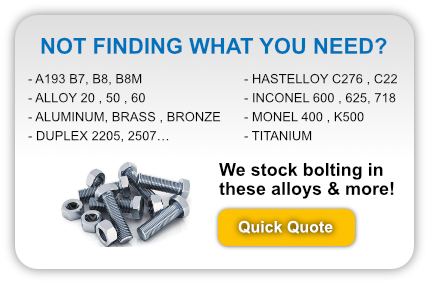 Fastener Solutions is an Inconel supplier offering this hard working alloy in a wide variety of materials and coatings for a range of industries. Inconel alloys, also aptly named superalloys are nickel-based and exhibit traits such as high resistance to corrosion, oxidation, carburization, pitting, crevice, corrosion cracking, and high-temperature strength. Chemical processing, nuclear, petrochemical, aerospace and marine industries widely use these superalloys due to the fact they are corrosion-resistant. Inconel is widely used in extreme environments where tremendous heat and corrosion resistance is paramount to the integrity of the end product. Characteristics
Resistance to acids, such as sulfuric, phosphoric, nitric, and hydrochloric.
High resistance to oxidation at elevated temperatures.
Almost completely free from chloride-induced stress corrosion cracking.
Excellent mechanical properties at both extremely low and extremely high temperatures.
Applications
Chemical and petrochemical processing.
Flare stacks on offshore oil platforms or components where exposure to high mechanical stress and seawater are required.
Gas turbines and rocket motors/engines.
Pollution control equipment.
Nuclear reactor components.
Chemistry70% nickel, 12% chromium, 2% iron.
Inconel Product Overview
Fastener Solutions carries a wide range of products that are constructed from advanced quality inconel. These fastener products will stand the test of time and can be used for numerous types of applications. Some of the products that we stock in this alloy, include: