Duplex 2205 Socket Head Cap Screws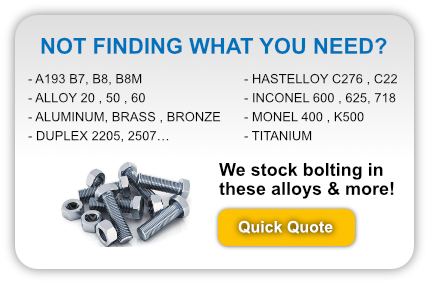 Duplex 2205 stainless steel socket head cap screws are primarily used when there is a limited amount of workable space that can be utilized. The socket style head of the duplex 2205 cap screw allows the user to utilize a socket wrench for quick fastening or loosening. Super duplex 2205 socket head cap screws also require less screws for job completion, so each job is completed as quickly and efficiently as the user allows.
Contact Fastener Solutions for more information regarding our SAF 2205 socket head cap screws, or call us at 866-463-2910 with any questions that you may have.
Duplex 2205 Cap Screw Material Advantages
UNS S32205 socket head cap screws (also known as S31803) are manufactured from high-grade duplex 2205 stainless steel. Since this material is composed of at least 22% chromium, 6% nickel and 3% molybdenum it can withstand certain environmental rigors that other metals cannot such as corrosion, cracking, erosion, pitting and more. Super duplex 2205 socket head cap screws also provide twice the mechanical strength compared to standard stainless steel. Some of the additional characteristics of duplex 2205, include: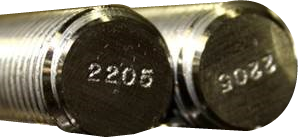 Useful up to 600°F
High resistance to chloride stress corrosion cracking
Excellent corrosion resistance
High strength
Good sulfide stress corrosion resistance
And more
Duplex 2205 Cap Screw Applications
SAF 2205 socket head cap screws are regularly used for a wide range of standard and advanced applications. The steel's inherently strong characteristics make it the ideal choice for numerous types of industrial applications that require a greater strength ratio than standard stainless steel. Additionally, the duplex 2205 socket head cap screw's socket head design allows it to be used for applications that have a low range of accessibility.
It is undeniable that duplex 2205 socket head cap screws provide an ultra-convenient way to maximize limited amounts of space. However, these unique screws also provide other advantages that will make them your ultimate go-to fastener when the going gets tough. Other than convenience, the other main advantages of utilizing super duplex 2205 socket head cap screw is reliability, safety and cost savings. Other benefits associated with the duplex 2205, include:
Increased tensile strength
Corrosion resistance
Maximized strength against fatigue
Space saving design
And more
Choose Fastener Solutions for your Duplex 2205 Stainless Steel Socket Head Cap Screw Needs
If you are looking to acquire any size quantity of duplex 2205 cap screws, consider Fastener Solutions for your direct sourcing needs. At Fastener Solutions, we understand that it can be extremely frustrating waiting for the materials that you need to finish a job on time. That is why we provide expedited next day shipping, so you have the materials you need, when you need them. Our fastener experts are extremely knowledgeable in all facets of the industry and can answer any questions that you may have. So, if we can help in any way, just let us know; we are here to support you every inch of the way!
Contact us for more information regarding duplex 2205 socket head cap screws, or request a quote today for an in-depth price analysis.
For large scale orders, request a quote to receive our best pricing available for your custom order.