Bulk Wood Screws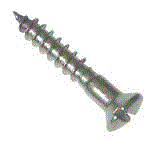 Wood screws provide the proper structure, thread size, and head shape for all types of wood including plywood, lumber, and specialized woods. Depending on your project's exact specifications, bulk wood screws are available in a wide range of materials including stainless steel, aluminum, brass, and steel. Finishes include chrome, nickel and zinc. Wood screws are ideal for both standard and custom designed projects.
Fastener Solutions wholesale wood screws are manufactured from the finest materials in the industry and are available in a broad range of sizes and material options. Whether you are building a wood deck, hanging drywall, or a myriad of other jobs that require wood, Fastener Solutions' bulk wood screws provide the quality and reliability you deserve.
For more information on our bulk wood screw option, get in touch with our sales team or call us at 866-463-2910 and we will gladly discuss your project needs. Fastener Solutions is your trusted wholesale bulk wood screw provider.
For large scale orders, request a quote to receive our best pricing available for your custom order.
Wood Screw Advantages
Wood screws provide exclusive benefits that cannot be replicated by other types of fastener products. When used properly, wood screws create a clamping force that increases joint strength. When compared to nails, wood screws provide several beneficial qualities including:
Increased holding power
Enhanced grip
Easily removed
Better control
Aesthetic qualities
Numerous head options
Wood Screw Material Options
Fastener Solutions offers wholesale wood screws in a wide range of material, size, and styling options. We can provide the wood screw you need in standard or wholesale bulk quantities, allowing you to have the precise quantity of screws you need. Our material options include the following:
Stainless steel wood screws
Aluminum wood screws
Brass wood screws
Steel wood screws
Chrome plated wood screws
Nickel plated wood screws
Zinc plated wood screws
Deck Screws vs Wood Screws
There are subtle qualities that differentiate a deck screw from a wood screw. Since the terminology is often intermixed the two types of fasteners are often regarded as the same. Even though both types of fasteners have flat heads, deck screw heads maintain a greater surface area, which gives it more load bearing capacity. Unlike deck screws, wood screw threading is sharp but not tapered. The shank and tip on a deck screw are also a bit more aggressive, allowing for increased longevity.
Contact Fastener Solutions for Wholesale Wood Screws Today
Contact us for more information regarding our wholesale wood screw product options or request a quote for specific pricing information today. At Fastener Solutions, we combine premium quality fastener products with world class customer service, providing the best purchasing experience in the industry.