Socket Head Cap Screws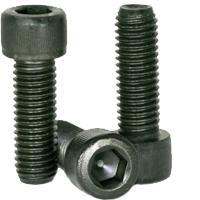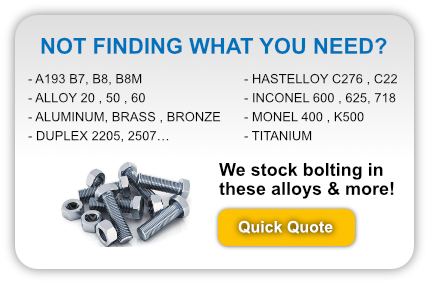 Socket head cap screws, also known as Allen head screws, are exclusive high-strength tension fasteners that are specifically designed for clamping assemblies. Socket screws are primarily used in tool and die fixture applications; however, due to their unique head design, ultra-durable and reliable socket Allen bolts can be used for a wide range of applications.
Contact us for more information regarding our broad range of standard and metric grade socket head cap screw options or browse our vast selection of socket Allen bolts that are offered in several grades, styles and materials.
Allen Head Screws for Applications with Limited Access
Standard and metric sized socket head cap screws are the ideal fasteners for applications that are provided with limited access. Allen head screws are available in a wide range of dimensions and can be easily tightened or loosened with tools from a standard socket set, which require very little clearance around the fastener.
Socket cap screws are often chosen over hex head cap screws due to quality issues or repeated stripping that has been commonly associated with the hex head design. Socket head cap screws also round out more easily than hex head screws. It often takes extreme pressure with repeated use to round off hex head styles. Common applications for Allen head bolt screws, include:
Tools & dies
Machine tools
Engineering devices
Mining equipment
Earth moving machinery
Socket Cap Screw Benefits
The use of a socket style Allen bolt screw can provide a wide range of advantages for numerous types of applications. Some of the more prevalent benefits, include:
As compared to ordinary fasteners, less socket screws of the same size can achieve the same clamping force in a joint.
As fewer screws are required for a given job, fewer holes are required to be drilled and tapped.
There is weight reduction as fewer screws are used.
There will be weight reduction on account of smaller size of the component parts since the cylindrical heads of socket screws need less space than hex heads and require no additional wrench space.
Socket Head Cap Screw Material Advantages
Fastener Solutions provides socket cap screws in a wide range of materials to suit all project requirements. Whether you need stainless steel, monel, duplex, zinc or bronze, we have you covered. Our Allen head screws are available in the material options that are listed below.
Stainless Steel Socket Head Cap Screws
There are numerous benefits that are associated with the use of stainless steel. It has high strength, good corrosion resistance and provides long-lasting low-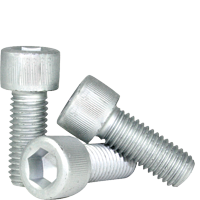 maintenance service at a relatively inexpensive price.
The efficient nature of socket head cap screws allows for less screws to be used per job, which makes for quicker and easier project completion. The duplex 2507 socket head cap screw material is also known for its high yield strength, which is twice that of the annealed yield strength of typical austenitic stainless steels.
Socket head cap screws also provide twice the mechanical strength compared to standard stainless steel, while providing high resistance to chloride stress corrosion cracking. They are also useful up to 600° F.
18/8 stainless steel is comprised of 18% chromium and 8% nickel and is regularly used within machine assemblies within the food and beverage industry. 18/8 stainless steel Allen head bolts do not contain molybdenum.
The nylon patch that covers these 18/8 cap screw fasteners is a pre-applied threadlocking coating, which is fused to a fastener's external or internal threads. Commonly known as a prevailing torque type self-locking fastener, it is reusable, chemical resistant, resists the heat and cold, and doesn't involve drilling or milling. We carry the following types of stainless steel cap screws:
Thermal Black Oxide Allen Head Screws
When fasteners are dipped into a black oxide bath material the harsh chemical components convert the top layer into magnetite. Treating fasteners with a black oxide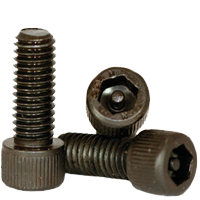 coating not only adds a clean and sleek black look but it also adds a mild layer of corrosion and abrasion resistance. Some of the benefits of black oxide coating, include less expensive alternative to other methods, does not change the fastener's dimensions, aesthetically pleasing, adds corrosion and abrasion resistance. We stock the following types of black oxide treated socket head cap screws:
Monel Socket Cap Screws
Monel nickel copper 400 socket head cap screws provide a cylindrical head and internal wrenching capabilities, which allow them to be used in smaller, more confined spaces. The Monel 400 material is super-strong, while providing extreme toughness at elevated temperatures. The Monel 500 material is an age-hardenable Nickel-Copper alloy which combines the corrosion resistance of Alloy 400 with high strength corrosion fatigue and erosion resistance. Fastener Solutions carries the following types of Monel socket screws:
Zinc Socket Head Cap Screws
Zinc is a naturally occurring element that's abundant in the Earth's crust. The remarkable effectiveness of zinc plating combined with its relatively low cost has made it a popular choice for protecting surfaces in all types of manufacturing processes. Fastener Solution's zinc socket screws are available in the following formats:
Bronze Socket Head Cap Screws
Silicon bronze is an alloy of mostly copper and tin, with small amounts of silicon, making it a perfect choice for marine environments. Many marine professionals prefer silicon bronze socket screws over stainless or other metals because of its superior resistance to corrosion and its strength and durability. Fastener Solutions offers bronze Allen head bolts in the following options:
Contact Fastener Solutions for Socket Head Cap Screws Today
Fastener Solutions understands that it can be extremely frustrating waiting for the materials that you need to finish a job in a timely manner. That is why we provide accelerated next day shipping, so you have the materials you need, when you need them. Our fastener professionals are highly knowledgeable in all facets of the fastener industry and can answer any questions that you may have. So, if we can help in any way, just let us know; we are here to support you every inch of the way!
Contact us for more information regarding our Allen head screws, or request a quote for an in-depth price analysis today.
For large scale orders, request a quote to receive our best pricing available for your custom order.