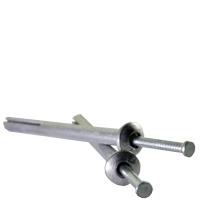 Hammer Drive Anchor, Zinc Alloy With Zinc Plated Steel Nails (Inch)
Fastener Solutions offers hammer anchors in a variety of sizes and materials including zinc plated steel nails. These anchor fasteners are set by using a hammer to expand them, or to insert them into a predrilled hole in concrete, brick, or block base material. The advantages include ease of installation, immediate loading capabilities and the tamper-resistant nature of the finished assembly. If you require a custom order, contact one our knowledgeable staff members or give us a call at 866-463-2910. Shop our online selections below!
For large scale orders, request a quote to receive our best pricing available for your custom order.