Alloy 20 Nickel Chromium Stainless Steel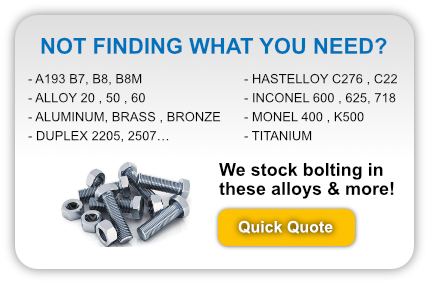 Alloy 20 is a nickel–chromium–molybdenum stainless steel alloy great for applications involving sulfuric acid. Other uses include the chemical, food, pharmaceutical, power generation, and plastics industries due to its corrosion resistance. Alloy 20 resists chloride ion corrosion and its copper content protects it from sulfuric acid. Alloy 20 is not a stainless steel but a nickel alloy (ASTM).
Provides excellent resistance to stress-corrosion cracking and to hot sulfuric acid; weldable, machinable and cold formable; best corrosion resistance of all stainless steel grades.
Approximately 34% nickel, 20% chromium.
For large scale orders, request a quote to receive our best pricing available for your custom order.
Alloy 20 Product Overview
Fastener Solutions carries a wide range of products that are constructed from advanced quality Alloy 20. These fastener products will stand the test of time and can be used for numerous types of applications. Some of the products that we stock in this alloy, include:
Features of Alloy 20 Nickel Chromium Stainless Steel
Excellent resistance to sulfur acid
Resistant to intergranular corrosion in the as-welded condition
Great material for chloride stress corrosion, and highly tolerable to cracking
Applications for Alloy 20 Nickel Chromium Stainless Steel
Bubble caps
Great heat exchanger
Phosphate coating drums and racks
Sulfuric acid pickling tanks, racks and heating coils
Process piping
Mixing Tanks
Chemical and petroleum processing equipment
Contact Fastener Solutions Today!
Not finding your fastener or material? Check out our other Exotic Alloys, Contact Us or Request a quote for more information. Our friendly staff is always ready to help get you the product you need. Our Online reference search is also available for additional research!