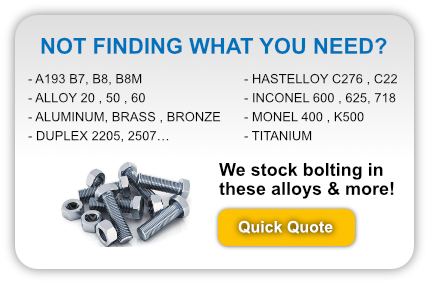 Bolts are externally threaded fastener products that are used in combination with equally threaded nuts to join two or more components. Standard inch and metric bolts are available in a variety of sizes, strengths, materials, and finishes. Bolts are an essential part of a mechanical joint and are available in a wide range of. styles depending on the job and its specifications. It is important that the correct bolt be used based on the specific job at hand.
We offer our bolts in a variety of materials, platings, grades, or classes, head styles, thread pitches, as well as customized designs. Choose from our full line of custom and standard bolts below.
For large scale orders, request a quote to receive our best pricing available for your custom order.
Bolt Material Options
All Fastener Solutions bolts are available in a wide range of material options, including an assortment of exotic metals that have many different types of unique properties. If you cannot find the type of metal you are looking for or have specific questions regarding our exotic metals, contact us or call us directly at 866-463-2910.
Anchor Bolts
An anchor bolt is used to attach objects or structures to concrete. They all consist of a threaded end, to which a nut and washer can be attached for the external load. Anchor bolts are used to secure light poles, structural beams or other equipment to the poured concrete surface.
Carriage Bolts
A carriage bolt is a large bolt with a round head. They are fully threaded bolts with a square or ribbed shoulder under the round head. The square or ribbed shoulder holds the bolt from turning when assembled with a nut to secure. Carriage bolts are primarily used for fixing wooden panels to masonry or to one another.
Elevator Bolts
Elevator bolts are threaded fasteners with a thin, low-profile round head. Some styles have teeth under the head while others have a square neck under the head; both serve to hold the bolt from turning once installed. Elevator bolts are designed to hold together canvas belts used in grain elevators and other conveyor systems.
Eye Bolts
An eye bolt is an externally threaded fastener that features loops that secure cables, wires, and chains to assist with vertical lifting. Eye bolts can also be placed in various materials such as wood or steel, allowing them to be used in a range of projects across numerous industries.
Hanger Bolts
Hanger bolts are fasteners with both ends threaded for joining metal to wood. They are available fully threaded or with a plain center area. Hanger bolts are designed for insertion into a pre-drilled hole and are ideal for overhead applications, such as suspending electrical wiring or sheet metal from wooden structures.
Hex Bolts
Hex bolts are fully threaded or partially threaded depending on the length with a six-sided, hexagonal head. They are intended to be used in conjunction with a nut or in a tapped hole. Hex bolts are regularly used within the construction industry due to their various mechanical properties. Contact us for custom hex bolts in a variety of materials.
Stove Bolts
Stove bolts are a type of machine screw, threaded without a tapered end. They are typically used to secure metal and are available with flat, round, or oval slotted heads and can be used with or without nuts and washers.
We also carry a wide range of other standard and custom bolts including flange screws, lag screws, plow bolts, square head bolts, step bolts, structural bolts, and more.
Bolt Size Standards & Measurements
Bolts are measured in many different types of parameters. This includes the head, length, and more, however, the bolt thread is often the hardest to measure. Standard bolt size is measured from the surface of the material to its end. For standard bolt sizes where the head usually sits above the surface, the measurement is from directly under the head to its end. Standard size bolts, along with smaller and larger bolt sizes are also typically measured by pitch threads per unit, threads per inch and behind the head to its end.
Contact Fastener Solutions Today for your Custom Bolt Needs
Contact us for more information regarding our i