ALUMINUM 6061 Fasteners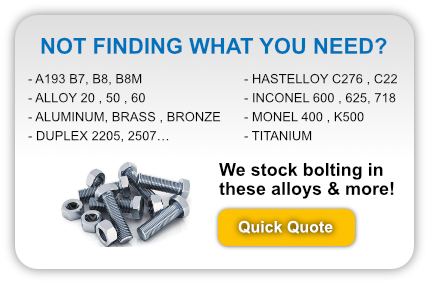 6061 is a precipitation hardening aluminum alloy, containing magnesium and silicon as its major alloying elements. Originally called "Alloy 61S," it was developed in 1935.[1] It has good mechanical properties and exhibits good weldability. It is one of the most common alloys of aluminum for general purpose use.
Standard alloy for 1/4″ and larger nuts. Specially made bolts can be made from this alloy.
Contact Fastener Solutions Today!
Not finding your fastener or material? Check out our other Exotic Alloys, Contact Us or Request a quote for more information. Our friendly staff is always ready to help get you the product you need. Our Online reference search is also available for additional research!
NOT FINDING YOUR FASTENER OR MATERIAL?
CHECK OUT OUR EXOTIC ALLOYS:

904L

Alloy 20

Alloy 50

Alloy 60

A-286

Avesta 2205

Avesta 254 SMO

CarpenterTM20/CB3
CarpenterTM 2-12N

Columbiurn

Custom 50

Ferraliurn 255

HaynesTMHR-120
HaynesTMHR-160
HaynesTMUltimet

AL 6XN

InconelTM25-6MO

Nitronic Alloy 50

Nitronic Alloy 60

Tantalurn

Tintaiurn

Waspaloy

Zirconium

...and more!

NEED A QUOTE ON AN ALLOY?


CLICK HERE