Cotter Pins
Cotter pins, also called split pins, are mechanical fasteners commonly used in clevis fastening systems. These simple-but-powerful fasteners are designed to be inserted through a shaft or clevis pinhole. Cotter pins are often used in applications requiring frequent disassembly, including the automotive, aerospace, and construction industries. Additionally, cotter pins' effectiveness and ease of use make them popular fastening products for common appliances and furniture assemblies.
For large scale orders, request a quote to receive our best pricing available for your custom order.
Cotter Pins at Fastener Solutions
Cotter pins, or cotter keys, create a secure lock in a clevis fastener system and through nuts and bolts with drilled holes for a cotter pin to be installed. Cotter pins are easy to use, requiring only a pair of pliers to install and uninstall. Cotter pins eliminate the possibility of nut loosening unless the force acting on the nut is powerful enough to sever the pin. Cotter pins' simplicity and effectiveness make them a popular fastening solution for a broad range of industrial applications.
Split Pins with Plain Finish, Zinc Cr+3 Finish, & More Material Options
Fastener Solutions distributes plain finish cotter pins, and Zinc Cr+3 finish cotter pins. For additional corrosion resistance, Brass and stainless steel are available as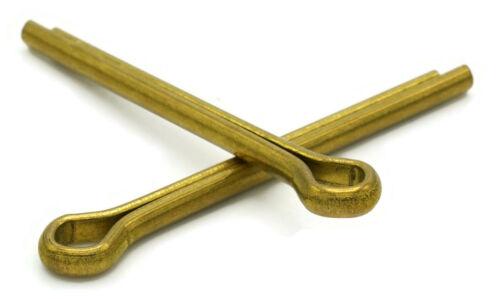 well, both 302 and 316 stainless. Need cotter pins in other materials and sizes? We can offer cotter pins in Monel, Titanium, Silicon Bronze, Hastelloy, Duplex and other exotic alloys. Contact us for information on special orders.
Cotter Pin Sizes
Our cotter pins come in standard and extended prong square cut style options, each available in inch sizing. Standard cotter pins range from 2 1/2" to 3" in length, and our extended prong square cut cotter pins range from 1/2" to 4" in length. If you need cotter keys in non-standard sizing options, contact us, and our staff will help you find the best cotter pins for your application.
Fastener Solutions is Your Source for Cotter Pins in Bulk
As a customer-focused supplier of premium fastening products, Fastener Solutions is committed to providing our customers with high-quality fasteners at competitive prices. We offer bulk ordering with volume discount options and negotiated shipping prices on nearly all our fastening products, including cotter pins. With fast shipping and warehouse locations across the country, Fastener Solutions is prepared to supply you with all the fasteners you need.
Contact Fastener Solutions to Learn More About Cotter Pins
Need help finding the best cotter pins and other fastening products for your application? Contact Fastener Solutions online, or call us at 866-463-2910, and our friendly staff will assist you in finding the best materials and sizes for your cotter pin needs. You can also request a quote for pricing information on special orders. At Fastener Solutions, we provide high-quality products at competitive pricing for all your industrial fastening needs.