Duplex 2205 Stainless Steel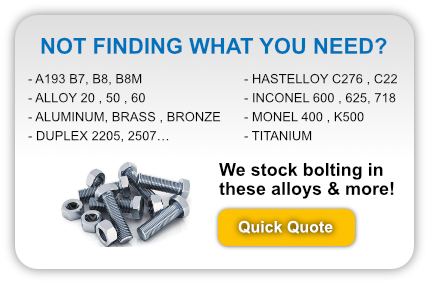 Duplex 2205 stainless steel is an advanced quality stainless steel alloy that contains at least 22% chromium, 6% nickel and 3% molybdenum. SAF 2205 provides incredibly good strength against fatigue and excellent corrosion protection against pitting, erosion, cracking and more. This stainless steel alloy also provides superior mechanical strength than lower grade alloys, with approximately twice the proof of strength of austenitic stainless steel. In addition, 2205 duplex performs well up to 600°F and offers excellent workability and weldability.
Contact us for more information regarding our duplex 2205 stainless steel products, including: hex bolts, nuts, screws, washers, nuts, studs and more.
For large scale orders, request a quote to receive our best pricing available for your custom order.
Duplex Stainless Steel 2205 Product Overview
Fastener Solutions carries a wide range of products that are constructed from advanced quality duplex stainless steel 2205. These fastener products will stand the test of time and can be used for numerous types of applications. Some of the products that we stock in this alloy, include:
Duplex 2205 Approvals & Standards
SAF 2205 benefits from numerous industry standards and approvals. These standards and approvals are put into place to provide assurances that the material being provided is as good as advertised. At Fastener Solutions, Inc. we only utilize approved duplex 2205 materials for our fastening products. The following 2205 duplex stainless steel standards and approvals are as follows:
Approvals
NACE MR0103-2012
ASME Boiler & Pressure Vessel Code
DNV Seamless Ferritic/Austenitic Stainless Steel Tubes
NACE MR0175/ISO 15156
ASME B31.3 for Process Piping
Standards
UNS: S31803, S32205
EN Number: 1.4462
DIN: X2CrNiMoN 22 5 3
SS: 2377
AFNOR: Z2.CND22.05.03
EN Name: X2CrNiMoN 22-5-3
W.Nr.: 1.4462
Duplex 2205 Material Characteristics & Advantages
SS 2205 has numerous beneficial qualities that make it a great material choice for your fastener needs. Due to its high chromium, molybdenum and nickel content SAF 2205 can be used for various applications that require added toughness and reliability. Some of the main advantages associated with duplex 2205, includes:
Excellent corrosion resistance
High strength
Good sulfide stress corrosion resistance
Useful up to 600°F
High resistance to chloride stress corrosion cracking
Chloride pitting and crevice corrosion resistance superior to 317L stainless
And more
Contact us for more information regarding our premium quality duplex 2205 stainless steel fastener products, or request a quote today for an in-depth price analysis.
Duplex SS 2205 Industrial Uses
Super duplex 2205 is used for numerous applications where extreme versatility, high strength and corrosion resistance are necessary project benefits. The industrial applications that benefit directly from duplex stainless steel 2205 include the following:
Oil field piping
Heat exchangers
Chemical processes
Pulp mill digesters
Food process equipment
Marine environments
Cargo tanks
And more
Contact Fastener Solutions for 2205 Stainless Steel Fasteners Today
Contact us for more information regarding our 2205 stainless steel fastener products, or request a quote for an in-depth price analysis today.