Hot Dip Galvanizing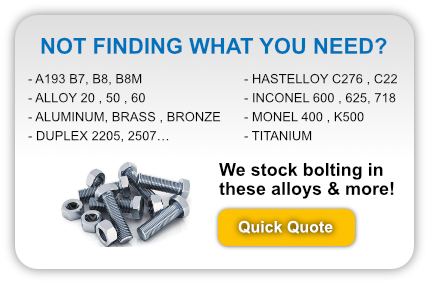 Galvanizing is another coating involving the application of a layer of zinc. Hot dipped galvanizing puts the thickest possible coating on the metal resulting in superior corrosion resistance. Due to the thickness of the coating hot dipped galvanized bolts are not compatible with other nuts. Galvanized nuts are tapped slightly larger than other nuts to accommodate this coating. Hot dipped galvanized fasteners are frequently seen in coastal environments and in pressure treated lumber where the chemicals in the lumber may corrode other fasteners.
Hot Dip Galvanizing
Fastener Solutions carries a wide range of products that are constructed from advanced quality hot dip galvanizing. These fastener products will stand the test of time and can be used for numerous types of applications. Some of the products that we stock in this alloy, include:
For large scale orders, request a quote to receive our best pricing available for your custom order.