Aluminum Bronze Fasteners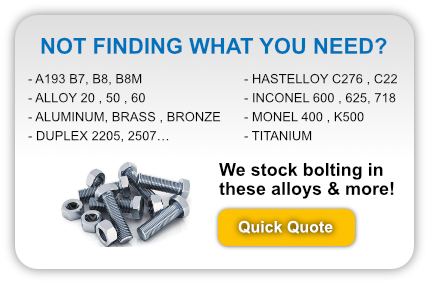 Aluminum bronze is one of the strongest alloys under the copper-based family of alloys. Aluminum bronze fasteners are high strength because of large aluminum and iron contents These fasteners also have percentages of nickel and zinc for additional strength purposes. The Aluminum bronze fasteners can be hardened in a few different ways, a combination of solid solution strengthening and cold workings
Aluminum bronze fasteners are a mainstay in high-performance industries including aerospace applications, engineering, marine, and underwater fastening such as oil and gasoline platforms, and automotive. If your next project calls for aluminum bronze fasteners such as hex bolts, heavy hex bolts, stud bolts, screws, hex nuts, plain washers, split lock washers, socket head cap screws or other customized fasteners contact Fastener Solutions.
For large scale orders, request a quote to receive our best pricing available for your custom order.
Specifications for Aluminum Bronze
ASTM B150 Alloy 614. 89% copper, 7% aluminum, 2% iron.
Aluminum Bronze Fasteners Product Overview
Fastener Solutions carries a wide range of products that are constructed from advanced quality Aluminum Bronze Fasteners. These fastener products will stand the test of time and can be used for numerous types of applications. Some of the products that we stock in this alloy, include:
Contact Fastener Solutions Today!
Not finding your fastener or material? Check out our other Exotic Alloys, Contact Us or Request a quote for more information. Our friendly staff is always ready to help get you the product you need. Our Online reference search is also available for additional research!