Duplex 2205 Nuts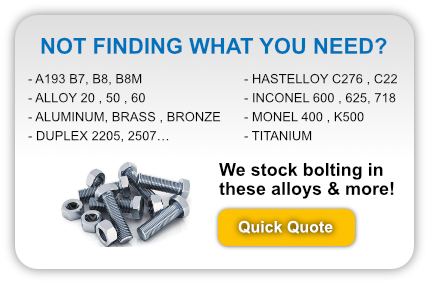 Duplex stainless steel nuts provide a higher strength of yield than typical austenitic stainless steel nuts. These complex SAF 2205 nuts also provide increased corrosion resistance and durability. Super duplex stainless steel 2205 nuts provide protection against crevice corrosion, pitting and numerous different types of corrosive cracking and wear. Furthermore, due to their solid heat resistance, duplex stainless steel nuts can be utilized in temperatures up to 570° F.
Contact Fastener Solutions for more information regarding our stainless steel SAF 2205 nuts, or call us at 866-463-2910 with any questions that you may have.
Place your order here! Please provide material, size & quantity.

Duplex 2205 Nuts Material Advantages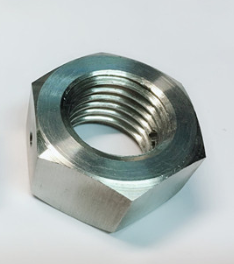 UNS S32205 nuts (also known as S31803) are manufactured from high-grade duplex 2205 stainless steel. Since this material is composed of at least 22% chromium, 6% nickel and 3% molybdenum it can withstand several unique types of environmental inflexibilities that other metals cannot such as corrosion, cracking, erosion, pitting and more. Super duplex stainless steel 2205 nuts also provide twice the mechanical strength compared to standard stainless steel. Some of the additional characteristics of duplex 2205, include:
Useful up to 570°F
High resistance to chloride stress corrosion cracking
Excellent corrosion resistance
High strength
Good sulfide stress corrosion resistance
And more
In addition, Duplex 2205 is the most widely used duplex stainless steel grade on the market. The Duplex 2205 alloy is a nitrogen-enhanced duplex stainless steel alloy. The nitrogen serves to significantly improve the corrosion resistance of the alloy; especially in the welded condition.
Duplex 2205 Nut Applications
UNS S32205 nuts (also known as S31803) are often used for standard and advanced fastening applications. The steel's intrinsically strong characteristics make it the perfect choice for a wide variety of industrial applications. Some of which, include:
Engineering
Textile
Paper
Petrochemical
Power generation
Oil & gas
And more
Duplex Stainless Steel Nut Benefits
Super duplex stainless steel 2205 nuts are ultra-strong, super easy to tighten or loosen and can be used for many different types of industrial fastener applications. The duplex 2205 nut's six-sided design allows the bolt to be quickly and effectively fastened or loosened, which provides for increased overall job speed and quick turnarounds. Some of the additional benefits related to the use of UNS S32205 nuts (also known as S31803), include:
Extremely strong
Hot-forging manufactured
Easily tightened or loosened
Increased corrosion resistance
And more
Contact Fastener Solutions for Stainless Steel Duplex 2205 Nuts Today
Fastener Solutions is a direct sourcing expert and provider for all your super duplex stainless steel 2205 nut needs. We understand that it can be tremendously frustrating having to wait unexpectedly for the materials that are required to finish a job on schedule. That is why Fastener Solutions provides expedited next day shipping, so you have the materials you need, when you need them. Our fastener experts are extremely knowledgeable in all facets of the industry and can answer any questions that you may have. So, if we can help in any way, just let us know; we are here to support you every inch of the way!
Contact us for more information regarding duplex stainless steel nuts, or request a quote today for an in-depth price analysis.
For large scale orders, request a quote to receive our best pricing available for your custom order.