Stainless Steel Flat Washers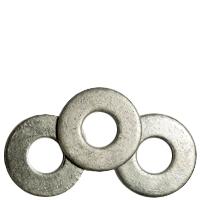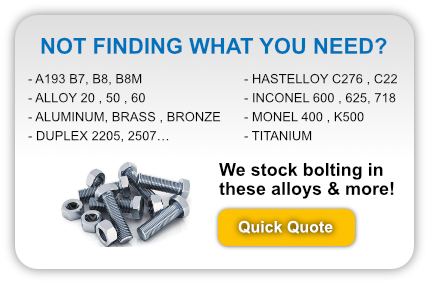 Flat washers are designed and intended for general use under the head of a bolt or nut. Stainless steel flat washers provide a smooth-bearing surface and even load distribution over a wider surface area. Whether the project is large or small, stainless steel flat washers are always kept fully stocked in our online inventory.
Order in bulk online below! If you don't see what you're looking for, contact one of our helpful staff members today at 866-463-2910.
For large scale orders, request a quote to receive our best pricing available for your custom order.
Stainless Steel Washer Grade Options
Stainless steel flat washers are available in several materials to match your exclusive application requirements. Whether it's bulk standard or metric flat washers, there is an option that meets or exceeds your expectations. Flat washer material options include:
18.8 Stainless Steel
18.8 stainless steel flat washers are manufactured with a minimum of 18% chromium and 8% nickel for increased tensile strength and corrosion resistance over 400 Series stainless steel materials. Additionally, 18.8 grade stainless steel carriage bolts resist the adverse effects of various acids and chemicals.
316 Stainless Steel
Flat washers manufactured from 316 stainless steel contain 18% chromium, 8% nickel, and 2-3% molybdenum. Alloy 316 flat washers provide excellent elevated temperature tensile and stress rupture strengths, as well as outstanding weldability.
Bulk metric sizes are available on all stainless steel flat washers!
Stainless Steel Flat Washer Advantages
Flat washers manufactured from stainless steel materials offer several advantages that allow them to be used for nearly any application type. Corrosion-resistant flat washers prevent loosening due to vibration while preventing a bolt or screw from being pulled through the application site. Stainless steel flat washer benefits include:
· Increased corrosion resistance
· Strong holding power
· Enhanced aesthetics
· 100% recyclable
At Fastener Solutions, we also offer a full line of stainless steel bolts and nuts to supplement your flat washer product needs. For specific pricing information on our complete line of stainless steel nut and bolt products, request a quote today.
Differentiating 18.8 & 316 Grade Stainless Steel Washers
There are several differences between the various grades of stainless steel washers. The end application will often dictate which type of stainless steel is best for your project needs. Both 18.8 and 316 grade stainless steels provide good corrosion resistance; however, 18.8 will corrode quicker than 316 when exposed to salt and saltwater environments. Conversely, 18.8 stainless is non-magnetic and can be bent and molded without negatively impacting strength and durability.
Bulk Stainless Steel Flat Washers
At Fastener Solutions, our standard and metric stainless steel flat washers are available in bulk quantities to support any size project. Let us know the bulk flat washer quantity you need, and we'll take care of the rest!
Contact Fastener Solutions for Premium Stainless Steel Washers Today
Contact us for more information regarding our precision standard and metric stainless steel flat washer options, or request a quote for specific pricing information today. Fastener Solutions is your trusted source for high-quality 18.8 and 316 stainless steel washers.