Dowel Pins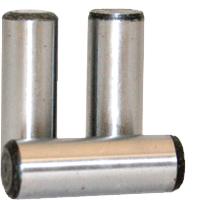 Dowel pins, or dowel rods, are cylindrical fasteners commonly made from wood, plastic, or metal materials. Though Dowel Pins have many uses, they are often used to align and reinforce machine components. Other applications for dowel pins and rods include furniture and shelving supports, pegs for small structures, and hanger systems for clothing and toys.
If you have any questions about dowel pins or any of the industrial pins distributed by Fastener Solutions, contact us today, or give us a call at 866-463-2910.
For large scale orders, request a quote to receive our best pricing available for your custom order.
Metal Dowel Pins & Rods from Fastener Solutions
Dowel pins are used to align machine parts, ensuring a high level of precision and accuracy. With dowel pins, machine components can be joined together for a precise and secure fit. Dowel pins are available in multiple styles and material options, offering various levels of strength and corrosion resistance for industrial applications.
Dowel Pin Material & Style Options
Fastener Solutions distributes dowel pins and rods manufactured from various metal materials. Find the right dowel pin style for your application from our selection of premium stainless steel alloys and plain steel options.
Stainless Steel Dowel Pins
Other Dowel Pin Material Options
Hastelloy Dowel Pins
Inconel Dowel Pins
Monel Dowel Pins
Dowel Pins & Rods Size Options
Dowel pins at Fastener Solutions are available in both metric and standard sizing. View the dowel pin product pages linked above for all sizing combination options for each material. For any questions regarding size or material dowel pin options, contact us.
Metric Dowel Pins
Diameter Options (Metric)
| | |
| --- | --- |
| M1.5 | M8 |
| M2 | M10 |
| M2.5 | M12 |
| M3 | M16 |
| M4 | M20 |
| M5 | M25 |
| M6 | |
Length Options (Metric)
| | | |
| --- | --- | --- |
| 4MM | 24MM | 55MM |
| 5MM | 25MM | 60MM |
| 6MM | 26MM | 70MM |
| 8MM | 28MM | 80MM |
| 10MM | 30MM | 90MM |
| 12MM | 32MM | 100MM |
| 14MM | 35MM | 110MM |
| 16MM | 36MM | 120MM |
| 18MM | 40MM | 130MM |
| 20MM | 45MM | 140MM |
| 22MM | 50MM | 150MM |
Standard Size Dowel Pins
Diameter Options (Standard)
| | |
| --- | --- |
| 1/16" | 7/16" |
| 3/32" | 1/2" |
| 1/8" | 5/8" |
| 3/16" | 3/4" |
| 1/4" | 7/8" |
| 5/16" | 1" |
| 3/8" | |
Length Options (Standard)
| | |
| --- | --- |
| 3/16" | 1 1/2" |
| 1/4" | 1 3/4" |
| 5/16" | 2" |
| 3/8" | 2 1/4" |
| 7/16" | 2 1/2" |
| 1/2" | 3" |
| 5/8" | 3 1/2" |
| 3/4" | 4" |