Castle & Slotted Hex Nuts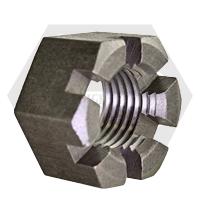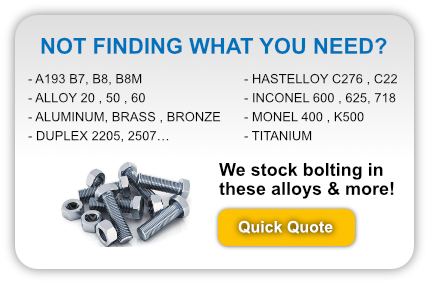 Slotted hex nuts have opposing slots cut into the end of the opposite side of the bearing surface. Slots are used for the insertion of a safety wire or cotter pin, creating a secure hold that prevents loosening or unscrewing.
Need help finding the round slotted nut fasteners you need? Call us at 866-463-2910, and our knowledgeable staff at Fastener Solutions will be happy to assist you.
For large scale orders, request a quote to receive our best pricing available for your custom order.
Castle Hex Nuts vs. Slotted Hex Nuts
While they are similar, there is a difference between castellated nuts and slotted hex nuts, making them unique for different applications. Keep reading to learn the differences between castle nuts vs slotted nuts.
Castle Hex Nuts
Castellated hex nuts, or "castle nuts," are created with a circular section at the top of the nut where the slots are formed. This circular section creates a small amount of surface area along the top of the nut, allowing a cotter pin to be wrapped around the fastener for a very compact and tight hold.
Slotted Hex Nuts
Unlike castle hex nuts, slotted hex nuts do not have a raised circular section for the slots. Rather, the slots are cut into the hex nut itself.
Types and Sizes of Slotted Nuts
Fastener Solutions carries a variety of slotted hex and castle hex nuts. Fastener Solutions offers a range of imperial sizes for our slotted hex nuts and castle nuts. Options include:
Contact Fastener Solutions for Slotted Hex Nuts Today
We take pride in providing our customers with everything they need at Fastener Solutions. If you have questions about the round slotted nut materials on our website, contact us, and our knowledgeable staff will be happy to assist you. We provide fast shipping on any order quantity.
You can also request a quote for further pricing details and special orders for any of our products.