Stainless Hex Cap Screws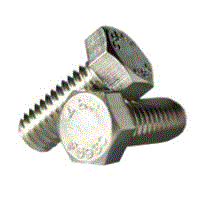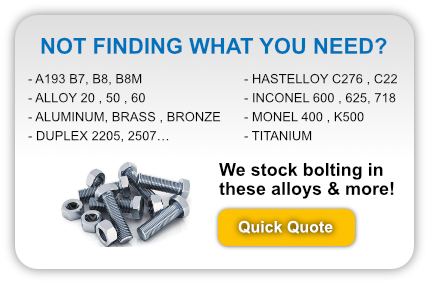 Stainless steel hex head cap screws are manufactured with a six-sided trimmed hex head that maintains a washer head on the bearing face. These types of hex head bolt fasteners are often utilized in OEM applications that require precise tolerances. The hex head bolt's stainless steel construction provides numerous beneficial qualities that cannot be matched by materials that offer less protection. Stainless hex cap screws also provide increased strength at higher temperatures.
Fastener Solutions is an industry leading provider of stainless steel hexagonal head cap screws. We can provide you with a stainless steel hex cap screw that is manufactured to your project's exact specification requirements, providing a fastener that is reliable, safe, and highly functional. Contact us for more information on our stainless hex cap screw grade options, or call us at 866-463-2910 and we will be happy to assist you with any questions that you may have.
For large scale orders, request a quote to receive our best pricing available for your custom order.
Stainless Steel Hex Head Cap Screw Advantages
Stainless steel hex head cap screws provide a wide range of benefits for your direct application needs. Some of the advantages that stainless steel hex cap screws offer include:
Increased bearing surface area
Improved clamping pressure
Flat washer facing under the bolt head
Fine and coarse threads
As a direct supplier of 18-8 stainless steel, stainless steel A2-70, stainless steel A2-80 and stainless steel 316 hex cap screw materials, we can provide stainless steel hex cap screws in numerous grades for your project convenience.
Stainless Steel Hex Head Screws vs Hex Head Bolts
Stainless steel hex cap screws are often mistakenly called hex bolts. However, the main difference is that hex cap screws feature a washer face under the head and a chamfered point, and a hex bolt does not have a washer face or chamfered threads. There is also a difference in the way in which each fastener is installed. Stainless steel hex head cap screws are often threaded into a tapped hole on a piece of equipment or machinery or installed in some other OEM application, whereas a bolt is installed by turning a nut to tighten the fastener.
Applications of Stainless Hex Cap Screws
Stainless steel hex head fasteners and bolts can be used for a broad range of applications throughout numerous industries. Due to their excellent corrosion resistance and superior strength at high temperatures, hex cap screws can be used within numerous industries, including:
Food processing equipment
Chemical processing
Construction
Machinery
Woodworking
Stainless Steel Hex Cap Screw Grade Options
Stainless steel is used primarily for long lasting applications, due to its corrosion-resistant nature and durability. Scratching or burring the metal will not create surface rust as the corrosion resistance exists within the metal itself. Stainless is a soft metal due to the low carbon content, therefore most stainless steel bolts are cold-formed and not heat treated or thru-hardened. At Fastener Solutions, we offer numerous stainless steel hex head fastener grades for your hex cap screw needs, including the following options:
18-8
A2-70
A2-80
A4-80
316
Strain Hardening of Stainless Steel
Strain hardening is a process that reduces oversized bars or wire to its desired final size through cold drawing or other processes. Within this process the stainless steel material is drawn down through a compression process. Since the material is under a huge amount of tension and pressure during this method, the strain reduces the material down to a smaller diameter, while at the same time work hardening it to a higher strength. Some of the methods that can perform strain hardening include:
Cold forming
Hot forging
Bar stock machining
Contact Fastener Solutions for Stainless Steel Hex Cap Screws Today
Contact us for more information regarding our stainless steel hexagonal head cap screw options, or request a quote for further pricing details today. We are your premier fastener experts.