Nut Fasteners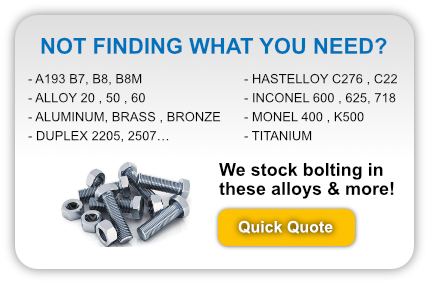 Fastener nuts are internally threaded devices that are typically used in combination with equally threaded bolts to produce a joining of two or more components. Standard inch and metric fastener nuts are available in a wide range of sizes, strengths, materials and finishes and aid in securing a joint from loosening due to vibration.
Fastener Solutions offers a variety of nuts that are available in a selection of shapes, sizes, styles, grades, and plating. We will work with you to choose the most effective and durable product for your application. Our most common types of nuts and bolts are the hexagonal or square nuts with internal threads that screws on to a threaded bolt, but we stock everything from wing nuts to battery nuts. View our full inventory of products below.
Nut & Bolt Material Options
Nuts and bolts used in corrosive atmospheres can perform better when they are constructed from stainless steel instead of standard steel. Stainless steel which has a higher nickel or chrome content than standard steel, which makes it more corrosion resistant. Fastener nuts and bolts are also available in other materials such as high-strength steel, brass, aluminum, plastic and other types of exotic metals.
All Fastener Solutions fastener nuts are available in a wide range of material options, including an assortment of exotic metals that have many different types of unique properties. If you cannot find the type of metal you're are looking for or have specific questions regarding our exotic metals, contact us or call us directly at 866-463-2910.
Finished Hex Nuts
Finished hex nuts are internally threaded, six sided hexagonal fasteners that are used to secure mechanical joints. Finished hex nuts are the most versatile and widely used commercial nut design available today.
Hex Jam Nuts
Hex jam nuts are internally threaded, hexagonal fasteners with a lower profile than standard hex nuts. They are also known as thin hex nuts because their low profile is normally half the height of a standard nut. Hex jam nuts are typically used in situations where a standard nut wouldn't fit or used in conjunction with a standard nut for a secure lock.
Nylon Insert Lock Nuts
Nylon insert nuts are internally threaded, hexagonal nuts with a nylon collar insert. When vibration occurs within the nylon insert lock nut and a screw reaches the collar, the threads and nylon form a tight, frictional fit, restricting movement of the screw. These reliable and durable fastener nuts will resist loosening and are used for industrial purposes or in the Aerospace industry.
Acorn Nuts
Acorn nuts, also referred to as cap nuts, are internally threaded nuts with a dome top. While acorn nuts tighten fastener joints as standard nuts do, they also cover the threaded end of the fastener providing a safe cover and more finished appearance. These unique fastener nuts are primarily used to protect or conceal threads on plumbing fixtures and industrial machinery.
Square Nuts
Square nuts are four sided nuts that are used with a flat bottom side and a chamfered, washer-crowned top. They are specifically designed to be used with square head bolts. Square nuts provide a large bearing surface that ensures complete adherence. These durable nuts can also be easily installed using a hand wrench.
We also carry several other types of fastener nuts including: structural and heavy hex nuts, machine screw nuts, all metal locking nuts, coupling nuts, slotted hex nuts, wing nuts, axle nuts, weld nuts, monel flats locks and more.
Galvanized Fastener Nuts
Our numerous types of nuts and bolts can also be galvanized. The hot dip galvanization process adds a layer of zinc to your fastener, which provides it with an extra layer of protection. This thick protective layer of zinc will add increased corrosion resistance and extend the life of the fastener.
Contact Fastener Solutions Today for your Fastener Nut Needs
Contact us for more information regarding our fastener nut options including: finished hex nuts, hex jam nuts, nylon insert lock nuts, acorn nuts, square nuts and more. We can also fully customize your fastener nut needs. All our fastener nuts are available in a wide variety of material options, including exotic metals. You can also request a quote or call us directly at 866-463-2910 with any questions you may have.
For large scale orders, request a quote to receive our best pricing available for your custom order.