Hex Coupling Nuts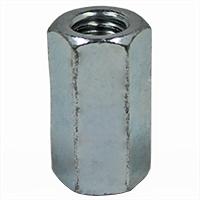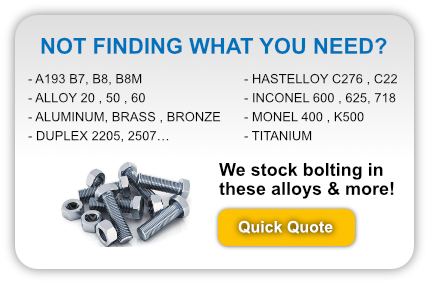 Coupling nuts, also known as extension nuts, are threaded fasteners used for joining two male threaded rods. The exterior of this threaded fastener is typically a hex, allowing a wrench to easily hold it. Threaded coupling nuts can also be round with one or more flats. We offer a variety of hex and round coupling nuts in a range of metric and inch sizes.
For large scale orders, request a quote to receive our best pricing available for your custom order.
Hex Coupling Nut Material & Size Options
Wholesale hex coupling nuts and extension nuts are available in various sizes and finish options to serve your project's specific requirements. Fastener Solutions' industrial hex coupling nuts are available in the following finish and sizing options:
A563 A Plain
Cost-effective extension nut
Ideal for non-corrosive environments
A563 A Clear Zinc Cr+3
Low-profile zinc coating
Provides protection against corrosion and rust
More durable than the A563 A plain hex coupling nut
A563 A Hot-Dipped Galvanized
Even greater durability
Enhanced protection for extreme conditions
Thicker coating
Metric Class 6, Clear Zinc Cr+3
Hex coupling nuts with the clear zinc cr+3 coating
Metric sizing
Other Material Options for Extension Nuts
Stainless Steel
Brass
Gr.5, Plain
Gr.5, Plated
Gr.5, HDG
A194 2H, plain
A194 2H, plated
A194 2H, HDG
Bulk Hex Coupling Nuts
At Fastener Solutions, our industrial hex coupling nuts are available in bulk, wholesale quantities to support any size project. Let us know the quantity of hex threaded coupling nuts you need, and we'll take care of the rest!
Contact Fastener Solutions for Premium Hex Coupling Nuts Today
Contact us for more information regarding our high-performance hex coupling nut options, or request a quote for specific pricing information today. Fastener Solutions is your trusted source for premium anchor bolt extension coupling nut threaded fasteners.