Wholesale Fasteners and Screws for All Your Industrial Projects
Fastener Solutions is the premier source for your industrial, construction, marine, and military requirements. Our vast range of in-bulk fasteners includes common materials like aluminum and titanium as well as other fastener material and coating options. Ideal for all your industrial fastener needs. We have over 100 million fasteners in US and metric sizes that are warehoused in strategically selected cities throughout the country. We also offer next day delivery options, ensuring prompt, reliable shipping or pickup.
Our wide selection of fasteners includes:
Ask about our quick turnaround specials program. Our large diameter fasteners in long or odd lengths are often available from stock. You can depend on our years of fastener industry experience for technical assistance, timely quotes, and prompt reliable shipments.
Custom Exotic Alloy Fasteners
We have the capabilities to provide regular fasteners and customized fastener options in a wide variety of exotic metals. Exotic alloys are ideal for applications that require enhanced performance capabilities. Identified for their strength, corrosion resistance, and heat tolerance, exotic alloys are highly desirable for demanding work conditions where high-performance is a must.
Common super alloy applications include super alloy springs that can withstand extreme weather conditions. Nickel-cobalt alloys such as Monel are ideal for marine applications where corrosion and acid resistance are required. Titanium alloys like Inconel are perfect for applications that demand high-pressure or high temperatures.
Popular Exotic Alloy Fasteners Available in Bulk Ordering
Our substantial selection of exotic alloys include but are not limited to:
Other exotic or hard to find fastener options that we offer:
A193 B7, B8, B8M
Alloy 20, 50, 60
Avesta
Carpenter

Hastelloy C276, C22
Haynes
Titanium
Zirconium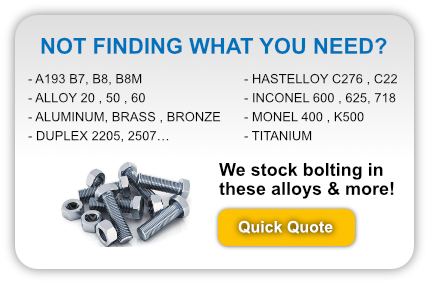 Advanced Quality Custom Wholesale Fasteners
Fastener Solutions, Inc. is a full line fastener supplier and a reliable source for in-bulk standard and metric fasteners in stainless steel, standard & alloy steel, and all exotic alloys. We have the capabilities to set delivery schedules from blanket orders and manage the inventory in our warehouses to supplement your major projects, large quantity orders, or custom fastener requirements. Our fully customized capabilities include:
Threaded and custom machined fasteners to your drawing specifications.
Direct overseas manufacturing from lower volume runs to full containers.
Quality assurance and testing to all specifications.
Industrial Fasteners, Tools, & Accessories
We are also a one-stop-shop for all your industrial fastener, tool, and accessory product needs. Our Proferred® branded industrial tool supply products provide the strength and reliability you need to get the job done right the first time. Our hand tools are covered by a lifetime warranty and all our other industrial products and accessories are warrantied against manufacturer defects.
Discuss Your Bulk Fastener Needs with Fastener Solutions Today
As a customer-first company, Fastener Solutions is the fastener supplier you can depend on. From our extensive selection of fastener products to our wide range of materials, we offer the best value for all your wholesale fastener product needs.
Contact us for more information regarding our premium custom fastener products for your next project, or request a quote for an in-depth price analysis today.