Monel 500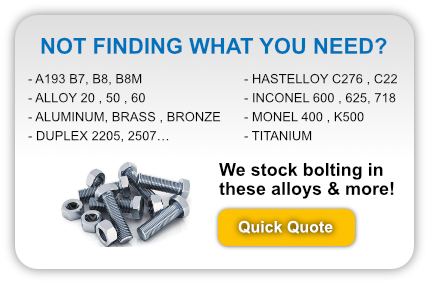 Monel 500 is an age-hardenable Nickel-Copper alloy which combines the corrosion resistance of Alloy 400 with high strength corrosion fatigue and erosion resistance.
Monel 500 is a nickel-copper alloy, precipitation hardenable through additions of aluminum and titanium. It retains the excellent corrosion resistant characteristics of 400 and has enhanced strength and hardness after precipitation hardening when compared with 400. It has approximately three times the yield strength and double the tensile strength when compared with 400. It can be further strengthened by cold working before the precipitation hardening.
For large scale orders, request a quote to receive our best pricing available for your custom order.
Monel 500 Product Overview
Fastener Solutions carries a wide range of products that are constructed from advanced quality monel 500). These fastener products will stand the test of time and can be used for numerous types of applications. Some of the products that we stock in this alloy, include:
Characteristics
Excellent mechanical properties from sub-zero temperatures up to about 480C.
Corrosion resistance in an extensive range of marine and chemical environments. From pure water to non-oxidising mineral acids, salts and alkalis.
Applications
Propeller and pump shafts.
Pumps and valves used in the manufacture of perchlorethylene, chlorinated plastics.
Typical application for Monel 500 which takes advantage of high strength and corrosion resistance are pump shafts, impellers, propeller shafts, valve components for ships and offshore drilling towers, bolting, oil well drill collars and instrumentation components for oil and gas production. It is particularly well suited for centrifugal pumps in the marine industry because of its high strength and low corrosion rates in high-velocity seawater. Monel fasteners are non-magnetic and should be annealed when welded.
Chemistry
Approximately 65% nickel, 30% copper, 3% aluminum.