Super Duplex 2507 Stainless Steel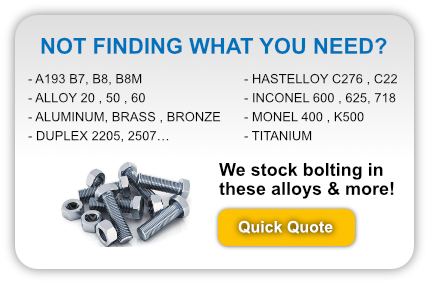 Certain projects require the use of materials that provide exceptional strength and corrosion resistance. Duplex 2507 stainless steel exceeds the standard requirements of stainless steel, with a SAF 2507 alloy that combines the benefits of chromium, molybdenum and nickel within a single steel material. Super duplex 2507 is highly useful in corrosive environments where resistance to crevice corrosion and pitting is a must. Due to these beneficial qualities, SAF 2507 is extremely useful in a wide range of industrial applications throughout the world.
Contact us for more information regarding our duplex 2507 stainless steel products, including: hex bolts, nuts, screws, washers, nuts, studs and more.
For large scale orders, request a quote to receive our best pricing available for your custom order.
Duplex Stainless Steel Alloy 2507 Product Overview
Fastener Solutions carries a wide range of products that are constructed from advanced quality SAF 2507 stainless steel. These fastener products will stand the test of time and can be used for numerous types of applications. Some of the 2507 stainless fastener products that we stock, include:
Duplex Stainless Steel Beneficial Qualities
SAF 2507 provides numerous advantages over non-specialized materials. These benefits allow 2507 stainless steel to be used in place of standard materials in certain extreme conditions. Some of the main advantages of 2507 alloy duplex stainless steel include the following:
Corrosion Resistance – Super duplex 2507 is highly resistant to pitting corrosion, intergranular corrosion, stress corrosion cracking and crevice corrosion.
High Strength – SAF 2507 can be used for applications where high strength is a project requirement.
Low Rate of Thermal Expansion – The rate of thermal expansion is never an issue with duplex 2507 stainless steel.
Excellent Weldability & Workability – Duplex 2507's ease of weldability and workability allow it to be used for a wide range of applications.
Applicable in Hot Environments – Due to its high chromium and molybdenum content, 2507 stainless can be used for applications that reach up to 600°F.
SAF 2507 Stainless Steel High-End Applications
Super duplex 2507 is used for numerous applications where extreme versatility, high strength and corrosion resistance are necessary project benefits. The industrial applications that benefit from duplex stainless steel 2507 include the following:
Oil & Gas
Chemical Processing
Marine Environments
Desalination Equipment
Paper Mill Equipment
Hydraulic & Instrumentation Products
Heat Exchangers
And More
Super Duplex 2507 vs 2205 (Comparable Qualities & Differences)
Due to their versatility, superior strength and corrosion resistance duplex 2205 and super duplex 2507 are both used for a wide range of industrial applications throughout the world. However, 2205 is a standardized formulation that has a functioning temperature range of -58° to 572°F, while providing excellent oxidation resistance and low thermal expansion coefficients. In contrast, SAF 2507 is a variant stainless steel alloy that possesses very high tensile strength and yield strength ratings, while resisting corrosion cracking and pitting.
Contact Fastener Solutions for Super Duplex 2507 Fasteners Today
Contact us for more information regarding our 2507 stainless steel fastener products, or request a quote for an in-depth price analysis today.