Spring Pins / Roll Pins
Spring pin fasteners, also known as roll pins, split pins, or slotted spring pins are cylindrical metal pins with a split down their length that allow them to compress and expand when inserted into a hole. Fastener Solutions also offers Spiral type or Coiled Spring Pins. They are commonly used to secure machinery components in automotive, aerospace, and other industrial applications. Spring pins are unique compared to other fastening options due to their ability to self-adjust to variations in hole size, ensuring a secure fit. Advantages of roll pins include shock and vibration absorption and high shear strength. Roll pins do not require specialized tools or equipment for installation, making them easy to use. Available in plain steel and stainless steel, with plain, zinc and black oxide finish options. Fastener Solutions has a wide selection of spring pins in metric and standard sizes.
Fastener Solutions also offers Spiral type or Coiled Spring Pins. Spiral pins are flexible after installation, therefore they absorb shock and vibration better than slotted spring pins. They work well in holes that are not perfectly round. Contact us, and we will help you get the exact spring pins you need for your application.
For large scale orders, request a quote to receive our best pricing available for your custom order.
Roll Pins at Fastener Solutions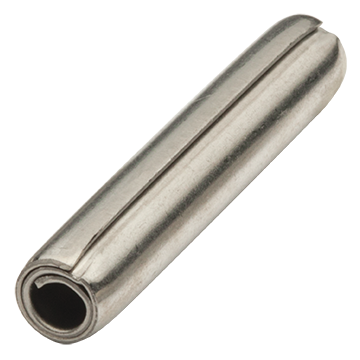 At Fastener Solutions, we distribute a wide selection of industrial fastening pins, including premium roll pins. These specialized mechanical fasteners are designed to secure two or more machine parts together with compression force. The spring action allows them to compress as they assume the diameter of the hole. Fastener Solutions distributes roll pins in various sizes and finishes. Need spring pins in non-standard sizes or materials? Contact us, and we will help get you the exact spring pins you need in the dimensions, materials, and finishes necessary for your application.
Spring Pin Material & Finish Options
Roll Pin Sizing Options
Fastener Solutions distributes roll pins in both inch and metric sizing. Standard spring pin sizes range in length from 3/16" to 4", and metric lengths range from 4MM to 100MM.
Why Work with Fastener Solutions?
Fastener Solutions is a supplier of premium fastening products with a customer-centric approach. We are dedicated to providing our customers with superior-quality fasteners at competitive prices. We offer convenient bulk ordering, volume discount options, and negotiated shipping prices on a wide range of fastening products, including spring pins. Our nationwide warehouse locations and expedited shipping options equip Fastener Solutions to cater to all your fastening needs in a timeframe that works for you. We also offer VMI services, ensuring your fastener inventory is always stocked. Choose Fastener Solutions to supply your industrial fasteners.
Contact Us to Learn More About Our Selection of Roll Pins
Questions about which roll pins would be best for your application? Contact Fastener Solutions online, or call us at 866-463-2910, and our staff will gladly assist you in finding the best fasteners for your application. You can also request a quote for pricing information on special orders. At Fastener Solutions, we are committed to providing superior quality products at competitive prices for all your fastening needs.