Flange Bolts & Screws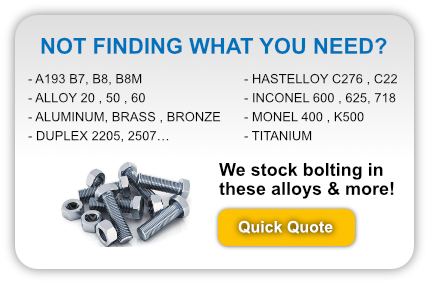 The Flange bolt or screw is identifiable by the ridge of the bolt head. The bolt's circular flange under the head acts as a non-rotating washer to distribute the load. Flange bolts are manufactured to provide the same holding power as a standard washer, and come in both serrated and non-serrated options. Browse our selection of hex head serrated flange screws, indented hex flange screws, and non-serrated hex flange screws.
Order online for your next industrial or commercial project, or request a quote. Don't forget you can always contact us at 866-463-2910. Shop Online Below!
For large scale orders, request a quote to receive our best pricing available for your custom order.
Varieties of Hex Flange Screws & Bolts
Hex Head Serrated Flange Screw, Clear Zinc: offers good corrosion resistance with increased strength
Indented Hex Grade 8, Black Phosphate & Oil: provides rust resistance with slight corrosion resistance
Metric 10.9 Hex Non-Serrated Zinc Yellow: provides increased corrosion resistance and overall protection
Metric 10.9 Hex Non-Serrated Clear Zinc: offers good corrosion resistance with durable strength, without the serrated head
Serrated & Non-Serrated Flange Heads
Fastener Solutions offers serrated and non-serrated heads on our flange screws, with various coating material options.
Serrated Flange Heads
Serrated head flange screws have grooves cut into the head of the screw, providing advantages in certain contexts. Serrations provide resistance when used with gaskets, helping create an ultra-tight seal and reducing the likelihood of leakage. The teeth of the serrated head also help to bite into the surface of the mounting material, improving resistance to vibrations.
Non-Serrated Flange Heads
Non-serrated flange heads are smooth and do not "bite" into the mounting surface as the serrated heads do. Non-serrated flange heads are versatile, providing significant weight distribution and strength for various applications.
Flange Bolt & Screw Sizes (Metrics & Inches)
Fastener Solutions offers a wide range of sizes for our flange bolts and screws, with various diameter, length, and thread options. We carry flange fasteners in both imperial and metric sizes.
Contact Fastener Solutions for Flange Screws Today
We take pride in providing our customers with everything they need at Fastener Solutions. If you have questions about the materials on our website, contact us, and our knowledgeable staff will be happy to assist you. We provide fast shipping on any order quantity.
You can also request a quote for further pricing details and special orders for any of our products.