Monel Nuts Flats Locks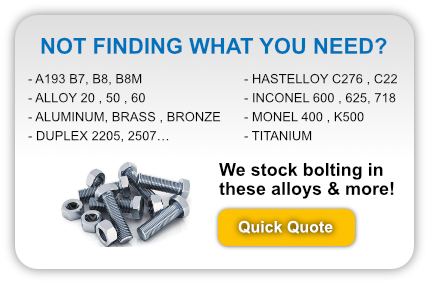 Monel Nuts Flats Locks
Monel® nuts, like Monel 400 and K500, use nickel-copper alloy materials and are usually a preferred fastener due to it's high strength, toughness and good corrosion resistance over a wide temperature range. Monel nuts offer exceptional resistance to hydrofluoric acid, a particularly tough acid to deal with. For hydrofluoric acid applications Monel nuts are perhaps the most resistant of all commonly used specialty alloys.
Monel alloy nuts are excellent corrosion resistant for marine use and have reasonable corrosion resistance to sulfuric and hydrochloric acids.
Industries that use Monel Fasteners
Because of these characteristics, Monel nuts are often found in marine and chemical processing applications.
Place your order here! Please provide material, size & quantity.

For large scale orders, request a quote to receive our best pricing available for your custom order.