Anchor Bolts
Anchor Bolts are typically used for a variety of projects from standard architecture to dam repair to nuclear power plant construction. As anchor fasteners are typically embedded in a substrate by physical or chemical means, these bolts have a threaded shaft exposed above the surface ensuring proper attachment of a structure or object to concrete. Browse our extensive selection of anchor bolts with nuts and washers as well as L shaped bolts with nuts and washers. If you don't see what you're looking for, send our knowledgeable staff an email or contact us at 866-463-2910.Shop Online Below!
Quick Turn Around Anchor Bolts
ASTM F1554 Gr 36, Gr 55, Gr 105
ASTM A193 B7, B8, B8M
ASTM A325, A354, A449
ASTM A36 / A36M
304& 316 Stainless Steel
Plain
Zinc Plate
Hot Dipped Galvanized
Mechanical Galvanized
Domestic Material & Manufacturer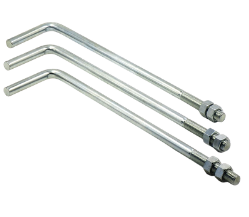 We stock Anchor Bolts in these materials & more!
Quick Quote
For large scale orders, request a quote to receive our best pricing available for your custom order.