Industrial Anchor Bolts
Anchor Bolts are typically used for projects ranging from standard architecture to dam repair to nuclear power plant construction. As anchor fasteners are typically embedded in a substrate by physical or chemical means, these bolts have a threaded shaft exposed above the surface ensuring proper attachment of a structure or object to concrete.
Fastener Solutions is your trusted source for wholesale anchor bolts. Browse our extensive selection of anchor bolts with nuts and washers as well as L shaped bolts with nuts and washers. If you don't see what you're looking for, send our knowledgeable staff an email or contact us at 866-463-2910. Shop Online Below!
For large scale orders, request a quote to receive our best pricing available for your custom order.
Quick Turn Around Anchor Bolts
ASTM F1554 Gr 36, Gr 55, Gr 105
ASTM A193 B7, B8, B8M
ASTM A325, A354, A449
ASTM A36 / A36M
304& 316 Stainless Steel
Plain
Zinc Plate
Hot Dipped Galvanized
Mechanical Galvanized
Domestic Material & Manufacturer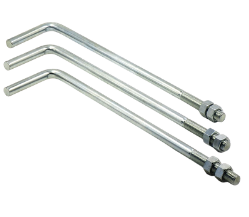 We stock Anchor Bolts in these materials & more!
Quick Quote
Industrial Anchor Rod Options
At Fastener Solutions, we carry a broad range of in-stock anchor bolts that are available in stainless steel and numerous exotic alloys. Whether you are looking for bent, straight, or L shaped industrial anchor bolts, Fastener Solutions has the options you need to support any project.
Bent Anchor Bolts
Bent 90-degree anchor bolts are either L-shaped or J-shaped and are ideal for a wide range of industrial applications. Bent foundation bolts are specifically manufactured to secure heavy-duty applications such as bridges, light poles, and floor plates. Carbon steel and stainless-steel bent anchor bolts are threaded at the top for convenient application attachment, while the bottom of the bolt creates resistance, so it does not pull out when force is applied.
Straight Anchor Bolts
Fastener Solution straight anchor bolts are manufactured with a forged head which provides heavy-duty pull-out resistance, allowing to them to be easily set. Straight anchor bolts provide enhanced strength and numerous other qualities depending on the material selected.
L Shaped Anchor Bolts
Fastener Solutions' L shaped anchor rods (90-degree anchor bolts) are regularly used to attach objects to masonry foundations, providing enhanced support for all types of lightweight post bases. The bent portion of the anchor bolt is designed to withstand significant applied force.
Material Options for Industrial Anchor Bolts
Depending on your specific application needs, bent anchor bolts are available in several different type of materials. No matter the application, we have an anchor bolt material that fits your project's exact specifications. Fastener Solutions' 90 degree / L SHAPED ANCHOR BOLT material options include:
Grade A36, 55 & 105 Carbon steel
Plain & Hot dipped galvanized steel
316 & 304 Stainless steel
Domestic / DFARS & import material
Anchor Bolt Applications
Industrial straight and bent anchor bolts from Fastener Solutions are utilized in numerous industries for a broad range of applications. Some of the most common anchor bolt applications include:
Heavy industrial equipment
Light poles
Bridges
Columns
Floor plates
Sign structures
Order Wholesale Anchor Bolts from Fastener Solutions Today
For more information regarding our bent anchor rod options, get in touch with our sales staff or Submit a Quick Quote for direct pricing information today. Fastener Solutions is your trusted supplier of high-quality industrial anchor bolts and fastener supplies.