Structural And Heavy Hex Nuts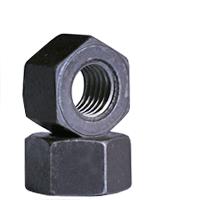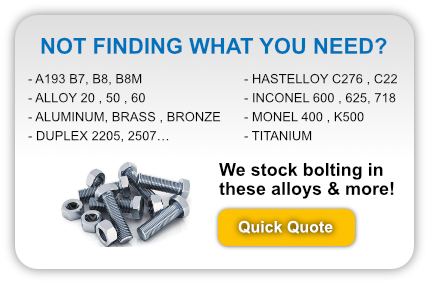 For the most demanding structural needs, you can rely on Fastener Solutions to offer the nuts and hardware you need. Heavy hex nuts are designed slightly larger and thicker than standard hex nuts, making them ideal for highway, bridge, and building infrastructure applications. Due to their increased strength and size, heavy hex nuts are commonly used for applications that require higher load ratings. Heavy hex nuts are also galvanized and tapped oversize in order to compensate for the corrosion resistant coating on the bolts.
Fastener Solutions' wholesale structural nuts are available in a variety of grades, sizes, and coatings. Shop our online selections below! Or contact our friendly and knowledgeable staff today at 866-463-2910.
Heavy Duty Structural Nut Material Options
Fastener Solutions' bulk heavy hex nuts are available in a wide range of material options to suit your project's exact specifications. With a wide range of materials to choose from, we offer several heavy hex nut options to suit your application's specific needs.
Steel Heavy Hex Nuts
Fastener Solutions' steel structural nuts are offered in a variety of different steel grades and can be used in numerous applications. We offer the following steel heavy hex nut options:
Zinc Plated Structural Nuts
Zinc electroplated steel fasteners provide enhanced corrosion resistance and are used for a broad range of industrial and outdoor applications. Zinc plated steel nuts are also less expensive than stainless steel heavy hex nuts for non-specialized applications.
Hot Dipped Galvanized Heavy Hex Nuts
Hot dipped galvanized steel also utilizes zinc as the sacrificial coating layer. The difference between galvanized and standard zinc coating is that a thicker layer can be applied through the galvanization process, adding increased corrosion resistance.
Hot Dipped Galvanized Wax & Blue Dye
Wax and blue dyed structural hex nuts are hot dipped galvanized and then treated with an additional wax lubricant. The blue dye makes the lubricated nuts easy to identify, eliminating potential confusion.
Heavy Hex Nut vs Standard Hex Nut
The main factor that differentiates a heavy duty structural nut from a standard nut, is size. A standard nut is noticeably smaller than a heavy hex nut. A heavy hex nut is visibly thicker and larger in weight and overall size. Within an application, heavy hex nuts provide increased load strength over standard nuts, making them ideal for more demanding applications.
Differences Between ASTM A194 2/2H & ASTM A563 A/DH Heavy Hex Nuts
ASTM A194 carbon and alloy steel structural nuts are commonly utilized for high pressure and temperature applications. Conversely, ASTM A194 2/2H heavy hex nuts are regularly used in applications that display lower temperatures and pressures. ASTM A563 is the most referenced ASTM specification for carbon and alloy steel nuts. It includes 8 grades and covers sizes from 1/4" to 4".
Contact Fastener Solutions for Heavy Hex Nut Material Options Today
For more information regarding our heavy duty structural nut options, get in touch with our sales team, or request a quote for direct pricing today. Fastener Solutions is your trusted source for wholesale and bulk heavy hex nut fastener products.
For large scale orders, request a quote to receive our best pricing available for your custom order.