Standard & Metric Carriage Bolts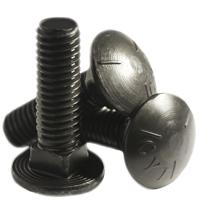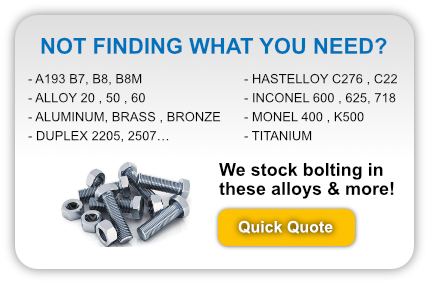 Carriage bolts or coach bolts are manufactured with a rounded head and a square shoulder that resists turning when its conjoining nuts are tightened or removed. The carriage bolt's unique shape provides self-locking functionality when placed in a square or round hole of most woods, making it the ideal fastener for a wide range of wood-to-wood and wood-to-metal connections.
For more information regarding our steel and stainless steel carriage bolt product options, browse our extensive selection of bolt grades and sizes below. If you don't see what you're looking for, send our knowledgeable staff an email or contact us at 866-463-2910.
For large scale orders, request a quote to receive our best pricing available for your custom order.
Carriage Bolt Material Options
Coach bolts are available in several different materials to match your exclusive application requirements. Whether it's bulk standard or metric carriage bolts, there is an option that meets or exceeds your expectations. Carriage bolt material options include:
18.8 Stainless Steel
18.8 stainless steel carriage bolts are manufactured with a minimum of 18% chromium and 8% nickel for increased tensile strength and corrosion resistance over 400 Series stainless steel materials. Additionally, 18.8 grade stainless steel carriage bolts resist the adverse effects of various acids and chemicals.
Zinc
Hot zinc galvanized carriage bolts protect the underlying substrate material from corrosion and decay, providing years of strength and reliability. Hot dipped zinc carriage bolts are commonly utilized for coastal environment and pressure-treated lumber applications, where corrosion protection is the primary concern.
Carbon Steel
Fastener Solutions stocks both low and medium carbon steel carriage bolts to meet your project specification needs. Carbon steel carriage bolts provide excellent ductility, strength, and shock resistance to support a wide range of industries and applications.
Bulk metric sizes are available, and carriage bolts with included hex nuts!
Carriage Bolt Advantages
Carriage bolts offer several unique advantages that allow them to be used for applications that require a smoother surface or an aesthetically pleasing look and feel. Some of the benefits associated with carriage bolt fasteners include:
· Smoother surface
· Heightened aesthetics
· Increased safety
· Enhanced security
Carriage Bolt Applications
Carriage bolts are used in applications where a flat or a smoother surface is desired. Compared to a standard bolt head that protrudes, carriage bolts are flush with the surface application, allowing materials to glide over it quickly. Carriage bolts are used in the following industries:
· Railroad
· Mining
· Agriculture
· Water conservation
· Automotive
· Manufacturing
Contact Fastener Solutions for Premium Carriage Bolts Today
Contact us for more information regarding our precision quality standard and metric stainless steel and galvanized steel carriage bolt options, or request a quote for specific pricing information today. Fastener Solutions is your trusted source for high-quality carriage bolt fasteners.