Plow Bolts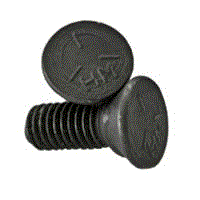 Primarily used in gang plows, road graders, snowplows, and similar heavy equipment, plow bolts enhance durability and reliability for your specific project needs. Heavy-duty machinery applications generally require either flat head or dome head plow bolts. Both types offer a countersunk head and square neck to prevent turning when the nut is tightened or removed.
Fastener Solutions offers an extensive selection of plow bolt grades and sizes; if you don't see the item you need, send our knowledgeable staff an email or contact us at 866-463-2910. Shop Online Below!
Plow Bolt Fastener Options
Need a specific material or size for your plow bolt application? Fastener Solutions stocks a broad range of plow bolt options to match your specifications. Whether you need dome head, flat head, clipped head, elliptical head, no. 3 head plow bolts, or plow bolts and nuts, we have you covered. Click on the product categories below to browse our plow bolt product options.
For large scale orders, request a quote to receive our best pricing available for your custom order.
Plow Bolt Applications
Plow bolts are generally used for functions that require a smooth application surface. Many different types of heavy equipment require plow bolts to function correctly. Heavy-duty equipment that requires plow bolts include:
· Snowplows
· Road graders
· Tractors
· Scoop Shovels
· Bulldozers
· Agricultural equipment
Domed Head Plow Bolt Advantages
Compared to standard flat head-designed plow bolts, dome head plow bolts provide ease of assembly and increased resistance to failure. A domed head style is designed to be interchangeable in any application that uses a flat head style while delivering the following added benefits:
· Increased wear resistance
· Tighter fit in countersunk holes
· Deeper depth provides fuller engagement
· Greater installation spin resistance
· Tighter body tolerances
Clipped Head & No. 3 Plow Bolts
Clipped head plow bolts are designed to be reduced at opposite sides with equal-sized sections removed, providing two flat sides. No. 3 plow bolts are engineered with a domed, countersunk head with a square neck that prevents rotation.
Contact Fastener Solutions for Heavy-Duty Plow Bolts Today
Fastener Solutions features small, large, and standard size plow bolts in a wide variety of material options, including exotic metal options.
Contact us for more information regarding our industrial plow bolts for heavy equipment, including dome head, flat head, clipped head, elliptical head, no. 3 head plow bolts, and plow bolts and nuts. You can also request a quote or call us directly at 866-463-2910 with any questions you may have.