Hex Bolts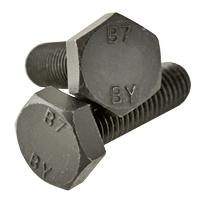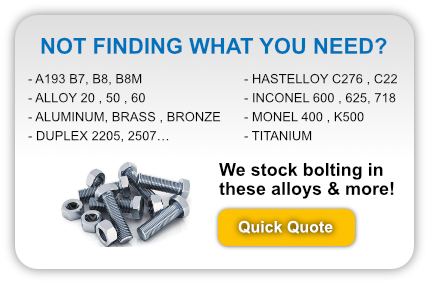 Hex bolts, or machine bolts utilize their six-sided forged heads in conjunction with a nut or a tapped hole for quick and efficient turning and fastening. These convenient fastener products are specifically manufactured for ease-of-use and for fastening two or more parts together. The hex head design also allows it to be easily gripped by a wrench for an improved tightening and loosening experience. Hex bolts are available in a wide range of materials, sizes and diameters to suit your specific needs. Additionally, these easy-to-use bolts adhere to ASTM A307A, A354 and F1554 industry specifications.
Contact us for more information regarding our premium grade hex bolts that are available in several types of materials and sizes. You can also call us directly at 866-463-2910 and we would be happy to answer any questions that you may have.
At Fastener Solutions will work with you to customize the order you need. We offer an extensive selection of hex bolt grades and sizes to suit your exact specification needs. Our machine bolts can be used for a broad range of applications including valves, pumps, gasoline tanks, heat exchangers, process vessels and more. In addition, we offer numerous materials to provide you with a variety of options that will be most suitable for your specific environment. If your project requires the use of a stronger bolt that is qualified to handle structures such as buildings and bridges, we also carry numerous structural bolt options.
Hex Bolt Material Options
Fastener Solutions machine bolts are available in a broad range of materials to suit your specific environmental needs. Our advanced quality materials will provide your application with the support that it needs to withstand any type of environmental condition. The hex bolt material options that we can provide, include:
Monel
Zinc
Stainless Steel
A193 Grade B7
A307 Grade A
Heavy Grade 5
A354 Grade 8
Super Duplex 2507
Machine Bolt Applications
Standard and heavy-duty hex bolts can be used for numerous types of general purpose applications and are capable of being easily installed or removed with a socket tool or wrench. Preparation for the insertion and installation of the machine bolt requires a pre drilled or pre-taped hole. Some of the specific points of application for hex bolts, include:
Exteriors
Automotive
Marine & Coastal Environments
Extreme Climate Areas
What are the Differences Between Hex Bolts and Hex Screws?
Even though the names of these two different are often used interchangeably, there are several subtle differences between them. One of the key differences between the two are the ways in which they are installed. Hex bolts are tightened by turning the bolt's nut to allow the fastening of the bolt, while a screw is threaded through a tapped hole. Moreover, hex screws are generally used within OEM settings where tight tolerances are required. Conversely, hex bolts are utilized when the mechanical properties of the bolt are of greater importance than dimensional tolerances.
Hex Bolt Sizing Options
Hex bolts from Fastener Solutions are available in a wide range of sizes to suit all types of application requirements. Our typical sizing options are listed below.
Diameter
1/2"
5/8"
3/4"
7/8"
1"
1 1/8"
1 1/4"
Length
1 1/2" – 1 3/4"
2" – 2 3/4"
3" – 3 3/4"
4" – 4 1/2"
5" – 5 1/2"
6" – 6 1/2"
7" – 7 1/2"
8"
Contact Fastener Solutions for Advanced Quality Hex Bolts Today
If your project requires the use of one or many different size hex bolts, consider Fastener Solutions for your direct sourcing needs. At Fastener Solutions, we understand that it can be tremendously frustrating waiting for the materials that you need to finish a job on time. That is why we provide the most advanced next day shipping options, so you have the materials you need, when you need them. Our fastener specialists are extremely knowledgeable in all facets of the industry and can answer any questions that you may have. So, if we can help in any way, just let us know; we are here to support you every inch of the way!
Contact us for more information regarding our ASTM approved machine bolts, or request a quote for an in-depth price analysis today.
For large scale orders, request a quote to receive our best pricing available for your custom order.