Hex Jam Nuts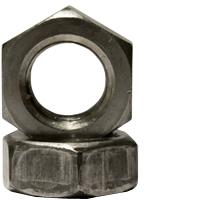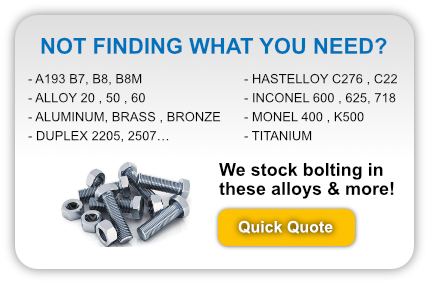 Fastener Solutions offers a variety of finished and heavy hex jam nuts for a range of industries. Typically used in situations where a standard nut wouldn't fit, jam nuts are tightened directly. against the work surface. Jam nuts are also known as thin hex nuts because their low profile are normally half the height of a standard nut. Order the supplies you need for your next job online below and have them shipped right to your door. If you don't see what you're looking for on our website contact one of our helpful staff members at 866-463-2910.
For large scale orders, request a quote to receive our best pricing available for your custom order.
Hex Jam Nut Style Options
Hex jam nuts are available in several standard and metric style options to serve your industrial application needs. Hex jam nut style options include:
Heavy hex jam nuts (A563 Grade A)
Hex panel nuts
Metric hex jam nuts (class 04 Din 439b)
Hex Jam Nut Material Options
Hex jam nuts are available in the following materials:
Steel Grade 2
Grade 5
Grade 8
Stainless 304 / A194 Grade 8
Stainless 316 / A194 Grade 8M
Brass
Silicon Bronze
Monel 400 QQN-281
Monel K500 QQN-286
C276 / Hastelloy
Duplex 2205
Super Duplex 2205
Titanium
Hex Jam Nut Finish Options
Hex jam nuts are available in several grades and finish options, including standard and metric sizes. Fastener Solutions provides the following hex jam nut products. Finished hex jam nuts are manufactured from various material grades and finishes for multiple applications. The finishes protect the hex jam nut's substrate metal material from corrosion and decay for prolonged use in a variety of environments and conditions. Hex jam nut finish options include:
Plain
Zinc Cr+3
Zinc yellow
Hdg
Hex Jam Nut Advantages
Fastener Solutions stocks a broad range of finished hex nuts, making it quick and easy to find the fasteners you need to complete your job as efficiently as possible. With a wide range of coating and material options, hex jam nuts provide several beneficial advantages for your application needs:
Enhanced corrosion protection
Tight holds
Ideal for harsh environmental conditions
Several size options
Perfect for standard and heavy loads
Bulk Hex Jam Nuts
At Fastener Solutions, our standard and metric, finished and unfinished hex jam nuts are available in bulk, wholesale quantities to support any size project. Let us know the bulk hex jam nut quantity you need, and we'll take care of the rest!
Contact Fastener Solutions for Premium Hex Jam Nuts Today
Contact us for more information regarding our precision standard and metric hex jam nut options, or request a quote for specific pricing information today. Fastener Solutions is your trusted source for high-quality finished and unfinished hex jam nuts.