Nylon Insert Locknuts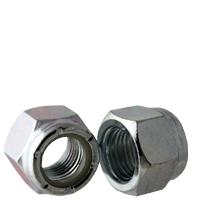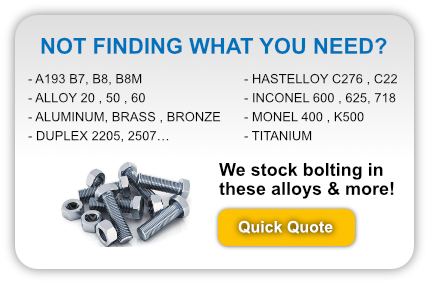 If you're looking for a threaded fastener that will resist loosening, then nylon insert locknuts are the best solution for your project. Used for industrial purposes or in the Aerospace industry, nylon insert locknuts or nyloc nuts are reliable and durable. We offer a wide range of nylon locknuts; browse our complete listings below.
If you don't see what you're looking for, send our knowledgeable staff an email or contact us at 866-463-2910. Shop Online Below!
For large scale orders, request a quote to receive our best pricing available for your custom order.
Nylon Insert Locknut Advantages
Nyloc nuts are manufactured with a small nylon ring within the metal outside of the locknut. This action allows the mating threads to be squeezed when the nut is tightened, creating a prevailing torque. The added nylon creates a gas and moisture seal, which can be helpful in specific applications. Standard and metric nylon insert locknuts are available in bulk quantities to satisfy any size job. Nyloc nut benefits include:
· Effectively seals against gas and moisture
· Enhanced gripping action
· Will not loosen due to friction between the locknut and threads
· Increased vibration control
· Less prone to leaking
Nylon Locknut Material & Grade Options
Nylon insert locknuts are available in several grades and materials in both standard and metric bulk options. Nylon locknut materials in the following grade options:
Grade A
· Zinc Cr+3
· Zinc Yellow
· J500
Grade C
· Plain
· Ne, Phosphate & Oil
· Ne, Zinc Yellow
Metric Class 8
· Zinc, Cr+3
· Zinc, Yellow
Metric Class 10
· Zinc, Cr+3
Bulk Nylon Insert Locknuts
At Fastener Solutions, our standard and metric nylon insert locknuts are available in bulk quantities to support any size project. Let us know the bulk nylon locknut quantity you need, and we'll have you covered.
Contact Fastener Solutions for Standard & Metric Bulk Nylon Insert Locknuts Today
Contact us for more information regarding our bulk standard and metric nylon locknut options. You can also request a quote or call us directly at 866-463-2910 with any questions you may have.