Wholesale Wedge Anchor Fasteners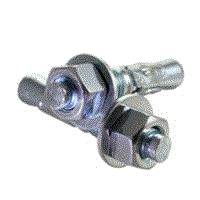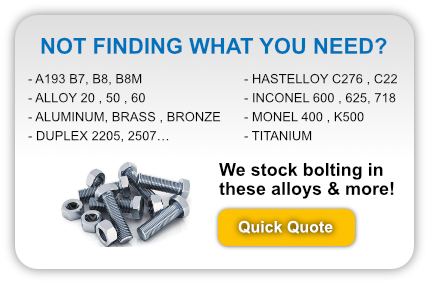 Wedge anchor fasteners, also known as expansion anchors, secure themselves using a mechanical wedging effect at the end of the fastener. These bolts are known for their strength and ability to be embedded in concrete. Wedge expansion anchors are designed exclusively for concrete use only.
Fastener Solutions offers premium mechanical ultrawedge and ramset Trubolt wedge anchors in a wide variety of sizes, diameters, and materials. For more information on our premium quality wedge expansion anchors, get in touch with our knowledgeable sales staff for custom orders or call us at 866-463-2910. Shop online below!
For large scale orders, request a quote to receive our best pricing available for your custom order.
Wedge Anchor Options
At Fastener Solutions, our high-quality four-part wedge expansion anchors are manufactured with a threaded body, expansion clip, nut, and washer. These anchors provide the highest and most consistent holding values of any mechanical expansion anchor on the market.
Ultrawedge Anchors
Ultrawedge anchors are manufactured from premium materials, display impressive performance characteristics, and are specifically designed for heavy duty applications. The Ultrawedge anchors provide an exclusive collar design that allows for anchoring in the most demanding environments. Some of the advantages of Ultrawedge anchors include:
Longer thread length
360 degree collar
Bull nose head
Head stamped
Ramset Trubolt Wedge Anchors
Ramset Trubolt wedge expansion anchors are built to withstand high torque and extreme environments. The wedge anchors premium construction allows it to be used for a wide range of concrete applications within numerous industries. Ramset Trubolt wedge anchor advantages include:
IBC compliant
Fully threaded design
Equal anchor diameter and hole diameter
Complete 360-degree anchor contact
Non bottom-bearing
Eliminates hole spotting
Inspectable torque values
Wedge Anchor Material Options
Industrial wedge anchors are manufactured in a wide range of materials including: common steel, titanium, plastic and a bevy of exotic materials. To learn more about our material options for wedge expansion anchors and all other types of fasteners, visit out fastener coatings and materials page for specific materials information.
Wedge Anchor Hot Dip Galvanizing vs Mechanical Galvanizing
Wedge anchors are often finished with hot dip or mechanical galvanization processes that allow the substrate metals that lie underneath the finishes to be protected against numerous types of corrosion.
Hot dip galvanizing provides a mixture of iron and zinc that adds a sacrificial layer of protection to the entire substrate metal, including the corners and edges. Mechanically plated coatings utilize a flash coating of copper that is followed by a glass bead and zinc powder tumbling process that coats the wedge anchor.
The substrate and zinc metallurgical bond within the mechanically plated coatings method is considerably weaker than that of the hot-dip galvanized coatings process.
Contact Fastener Solutions for Premium Wedge Anchors Today
For more information regarding our wedge expansion anchor fastener options, get in touch with our sales team, or take a look at our materials and coatings page to find the material that fits your project needs. Fastener Solutions is your trusted source for premium wholesale Ultrawedge and Ramset Trubolt expansion anchors and fastener products.