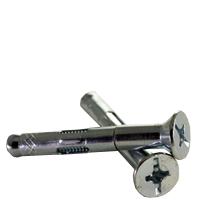 Sleeve Anchor, Flat Head Phillips/Slotted Combo, Zinc Cr+3 (Inch)
The sleeve anchor phillips/slotted combo zinc cr+3 fasteners work by expanding against the material in which they are embedded. One advantage of the sleeve anchor is that it can be removed after it's been installed. Another benefit is that the length of the sleeve induces less stress on the substrate than a wedge anchor. Order the supplies you need for your next job online and have them shipped right to your door. If you don't see the anchor you're looking for on our website just contact one of our helpful staff members at 866-463-2910.
For large scale orders, request a quote to receive our best pricing available for your custom order.