Gaskets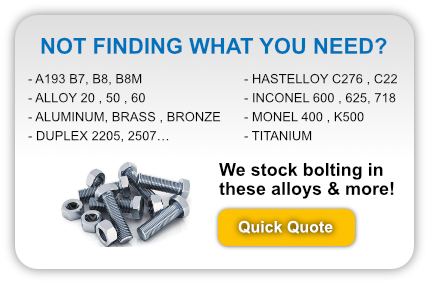 Gaskets are regularly used as a mechanical seal to fill space between two or more surfaces that need to be joined. They are most commonly used to prevent leakage within different areas or aspects of a part while under compression. Depending on your specific application need, there are several different types of gaskets that can be used, these include spiral wound gaskets, double jacketed gaskets, kammprofile gaskets, corrugated metal gaskets, and more.
Fastener Solutions, Inc. is an industry leading supplier of wholesale gaskets of all shapes and sizes. Our advanced quality gaskets are manufactured from the finest materials available. Each of our gaskets provide incredible leak protection and are expertly tested before they can be sold.
Contact us for more information regarding our premium wholesale gasket options, or call us at 866-463-2910 with any questions that you may have.
Spiral Wound Gaskets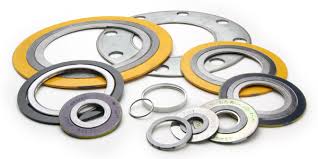 Consisting of a V-shaped strip of metal that is wound into a spiral, a spiral wound gasket provides excellent resilience and sealing against a wide range of liquids. Since they are constructed of metal and fillers, a spiral wound gasket with an inner ring can provide superb protection against pressure cycling, extreme temperatures, vibration, and shock. In addition, spiral wound gaskets are used where a compression limiting, or gasket centering device is not needed. This allows them to provide outstanding joint restricting compression performance. Contact us to learn about the different spiral wound gasket types we offer.
Spiral Wound Gasket Benefits
There are numerous advantages associated with spiral wound gaskets. Some of the main benefits, include:
• Self-adjusts to numerous environments
• Can be used at high temperatures and pressures
• Multiple sealing actions
• Added filler compression
Double Jacketed Gaskets
These premium gaskets combine inner filler materials with an outside metal jacket. The fill material of the double jacketed gaskets provides excellent sealing capabilities, while the outside jacket provides extreme temperature resistance. These advanced quality gaskets are also available in potentially any shape or size.
Double Jacketed Gasket Benefits
Some of the advantages associated with double jacketed gaskets include the following:
• High elasticity
• Metal jacket prevents contamination
• High recovery
• Nearly limitless dimensional shape and size possibilities
Kammprofile Gaskets
Kammprofile gaskets (or camprofile) function through a solid corrugated core that is covered with a flexible layer covering. This structuring layer allows for an extremely tight seal and higher compression than other gaskets. Camprofile gaskets are a bit more expensive than other types of gaskets but the long-life expectancy and reliability of the gasket makes it the correct choice for many applications.
Kammprofile Gasket Advantages
Due to their many distinct advantages, camprofile gaskets are used for many different types of industrial applications including:
• Excellent sealing characteristics
• Applicable to nearly all flanges
• Very small operating thickness
• Low seating stresses
• Reusable gasket cores
• Extremely high pressure seals
• High temperature resistance
• Outstanding chemical resistance
Corrugated Metal Gaskets
Reliable and cost-effective corrugated metal gaskets are extremely effective solutions for flange and head applications where there is sufficient bolt loading. Additionally, corrugated metal gaskets are regularly used for applications which require certain amounts of thermal conductivity, corrosion resistance, and mechanical strength.
Corrugated Metal Gasket Benefits
The advantages associated with corrugated metal gaskets, include:
• Increased mechanical strength
• Excellent thermal conductivity
• Can withstand high temperatures
• Solid construction
• No size limitations
Flexitallic Gaskets
Flexitallic gaskets provide outstanding resistance to virtually all corrosive and toxic elements. These spiral wound gaskets are manufactured from a high temperature filler material that operates up to 1800° F. Flexitallic gaskets are also specially engineered to exceed stringent oil and gas industry fugitive emissions requirements, such as those found in the Chevron Fugitive Emissions Test (CFET). Flexitallic spiral wound gaskets is the precision-engineered solution for numerous applications, including:
• Flanged joints
• Heat exchangers
• Boiler handholes
• Manholes
• High-temperature applications
• High-pressure applications
Contact Fastener Solutions for Advanced Quality Gaskets Today
Contact us for more information regarding our spiral wound gaskets, double jacketed gaskets, kammprofile gaskets, corrugated metal gaskets, Flexitallic gaskets and more, or for an in-depth pricing analysis request a quote today.
For large scale orders, request a quote to receive our best pricing available for your custom order.