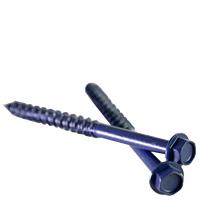 Concrete Screw, Blue Finish, Low Carbon (Inch)
Fastener Solutions offers the ideal fastener for anchoring objects to concrete quickly. Shop our selection of durable and reliable concrete anchor screws online. This product comes in a range of sizes and styles depending on the project Shop our Concrete Screw selections below!. Order online and in bulk. If you need a custom order request a quote or contact one of our knowledgeable staff members at 866-463-2910.
For large scale orders, request a quote to receive our best pricing available for your custom order.