Materials & Coatings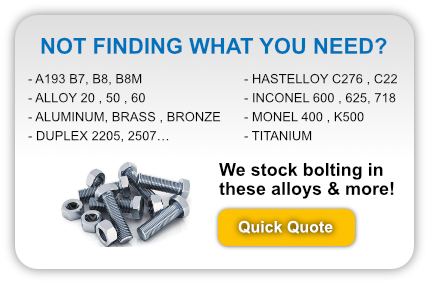 Replacing Your Industrial Fasteners? Let Us Help You Choose the Best Materials
Industrial fasteners are manufactured in a wide range of materials from common steel to titanium, plastic and other exotic materials. Many materials are further separated into different grades to describe specific alloy mixtures, hardening processes, etc. In addition, some materials are available with a variety of coatings or plating to enhance the corrosion resistance, or appearance of the fastener.
In addition, fastener material can be important when choosing a fastener due to differences between materials in strength, brittleness, corrosion resistance, galvanic corrosion properties and cost.
Choosing the Best Materials for Industrial Fastener Replacement
When replacing fasteners, it is generally best to match what you are replacing. Replacing a bolt with a stronger one is not always safe. Harder bolts tend to be more brittle and may fail in specific applications. Some equipment is designed so that the bolts will fail before more expensive or critical items are damaged. In some environments such as saltwater galvanic corrosion must also be considered if changing fastener materials.
For more information regarding our industrial fasteners or the materials and coatings we offer, contact our knowledgeable sales staff today.
Material & Coating Options
Fastener Solutions carries a wide range of material and coating options for your industrial fastener needs. Our line of material and coating options, includes but are not limited to the following materials:
17-4PH Stainless Steel
Stainless Steel 17-4PH is a precipitation hardening martensitic stainless steel. Typical usage is seen in applications requiring high strength and a modest level of corrosion resistance. Stainless steel 17-4PH contains the following material amounts, 15 - 17% chromium, 3 - 5% nickel, 3 - 5% copper.
18.8 Stainless Steel
This type of stainless steel is non-magnetic and hardenable by cold working; a tensile strength range of 80-200,000 psi; good corrosion resistance. The term 18.8 is used interchangeably to characterize fittings made of 302, 302HQ, 303, 304, 305, 384, XM7, and other variables of these grades with close chemical compositions. Stainless 18.8 contains the following materials, approximately 18% chromium, 8% nickel.
304L & 316L Stainless Steel
Austenitic 304L and 316L stainless steels are considered some of the most weldable of the alloy steels. Alloys 304L and 316L exhibits excellent corrosion resistance and has a high ease of fabrication, outstanding formability. Material considerations for these alloys, include: a minimum of 18% chromium and 8% nickel.
316 Stainless Steel
This molybdenum-bearing austenitic stainless steel demonstrates better overall corrosion resistant properties than the 304 alloy, especially regarding pitting and crevice corrosion in chloride environments. The material content of 316 includes: 8% chromium, 8% nickel, and 2-3% molybdenum.
410 Stainless Steel
This unique style of stainless steel provides superior wear resistance and is hardenable. It's also an excellent corrosion resistant metal. Stainless steel 410 is used for cutlery, nozzles, valve parts and more. It contains a minimum of 11.5% chromium.
Alloy 20 Nickel Chromium Stainless Steel
Alloy 20 is a nickel–chromium–molybdenum stainless steel alloy great for applications involving sulfuric acid. Other uses include the chemical, food, pharmaceutical, power generation, and plastics industries due to its corrosion resistance. It contains approximately 34% nickel and 20% chromium.
Aluminum 2024
This aluminum product has an optimal surface finish quality and perfect for machinability. Aluminum 2024 is also a medium grade high strength material, with excellent workability that is commonly utilized in aircraft construction. Material ingredients include: 93% aluminum, 4% copper.
Aluminum 6061
Aluminum alloy 6061 product was developed in 1935 and maintains good mechanical properties and exhibits good weldability. It is one of the most common alloys of aluminum for general purpose use.
Aluminum Bronze
Aluminum bronze is one of the strongest alloys within the copper-based family of metals It provides high strength, with large aluminum and iron contents. Aluminum bronze can also be hardened in a few different ways through the combination of solid solution strengthening and cold workings. Aluminum bronze material contents include: 89% copper, 7% aluminum, 2% iron.
Brass
Due to its corrosion resistant properties, brass material is often used in marine and water saturated environments. Brass provides extreme workability, corrosion resistance and good strength qualities. Brass is made up of the following alloys: 65% copper, 35% zinc.
Chrome Plating
Chrome is often used strictly for its alluring appearance, but it also provides outstanding corrosion resistance and is often used to cover stainless steel, which creates a premium corrosion resistant material.
Hastelloy C-276
This nickel, chromium, molybdenum alloy is extremely versatile and corrosion resistant. It displays outstanding welding characteristics and has excellent resistance to pitting, oxidation and corrosion cracking. Hastelloy C-276 consists of: 60% nickel, 16% molybdenum, 15% chromium.
Hot Dip Galvanizing
Hot dipped galvanizing puts the thickest possible coating on the metal resulting in superior corrosion resistance. This process involves layering the metal being coated with applications of zinc, which creates the galvanized coating.
Inconel
This alloy provides a high resistance to corrosion, oxidation, carburization, pitting, crevice, corrosion cracking, and maintains a high-temperature strength. Inconel is widely used in extreme environments where tremendous heat and corrosion resistance is the key to the integrity of the finished product. The material content of Inconel includes: 70% nickel, 12% chromium, 2% iron.
Monel 400
This nickel-copper alloy is resistant to the harsh corrosion and temperatures of seawater, steam at high temperatures, and other caustic solutions. It also displays good corrosion resistance and has a potential for good weldability. Monel 400 contains approximately 65% nickel, 32% copper.
Monel 500
Monel 500 is a nickel-copper alloy, precipitation hardenable through additions of aluminum and titanium. It has approximately three times the yield strength and double the tensile strength when compared with 400. It can be further strengthened by cold working before the precipitation hardening. This material contains approximately 65% nickel, 30% copper, 3% aluminum.
Silicon Bronze 651 & 655
These silicon bronze alloys are stronger and provide increased corrosion resistance over brass. They are often used within electrical circuitry, process control equipment and valves. Silicon bronze 651 & 655 contain roughly 95-97% copper, 2-3% silicon, 1% manganese.
Titanium
Titanium is a lightweight metal with an excellent overall strength-to-weight ratio. This highly touted metal also provides high temperature durability and good corrosion resistance. Titanium is regularly used within both the aeronautics and aerospace industries.
Zinc Plating
Galvanizing through the application of zinc plating provides extreme corrosion resistance to its metal substrate. Zinc plated products are often utilized in coastal environments and in treated lumber where the added chemicals to the wood may corrode the metal.
Contact Fastener Solutions for Custom Fastener Materials & Coatings Today
Contact us for more information regarding our numerous types of fastener materials and coatings, or request a quote today.
NOT FINDING YOUR FASTENER OR MATERIAL?
CHECK OUT OUR EXOTIC ALLOYS:

904L

Alloy 20

Alloy 50

Alloy 60

A-286

Avesta 2205

Avesta 254 SMO

CarpenterTM20/CB3
CarpenterTM 2-12N

Columbiurn

Custom 50

Ferraliurn 255

HaynesTMHR-120
HaynesTMHR-160
HaynesTMUltimet

AL 6XN

InconelTM25-6MO

Nitronic Alloy 50

Nitronic Alloy 60

Tantalurn

Tintaiurn

Waspaloy

Zirconium

...and more!

NEED A QUOTE ON AN ALLOY?


CLICK HERE