B7 Studs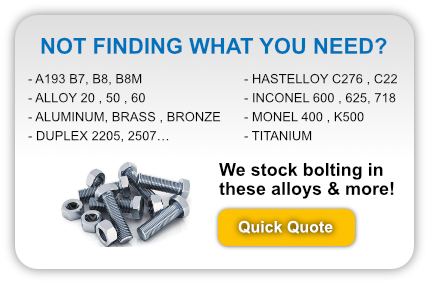 B7 studs are made of a carbon steel that is classified as an alloy steel. They contain cobalt, columbium, boron, aluminum, molybdenum, nickel, titanium, vanadium and zirconium.
B7 studs are heat treated alloy steel studs and are used for high-pressure and high-heat operations. B7 studs are used as stud and anchor bolts in construction projects. If you are looking for B7 Studs for your next project contact Fastener Solutions today at 866-463-2910 or Shop online below!

For small or large scale orders, request a quote to receive our best pricing available for your custom order.
NOT FINDING YOUR FASTENER OR MATERIAL?
CHECK OUT OUR EXOTIC ALLOYS:

904L

Alloy 20

Alloy 50

Alloy 60

A-286

Avesta 2205

Avesta 254 SMO

CarpenterTM20/CB3
CarpenterTM 2-12N

Columbiurn

Custom 50

Ferraliurn 255

HaynesTMHR-120
HaynesTMHR-160
HaynesTMUltimet

AL 6XN

InconelTM25-6MO

Nitronic Alloy 50

Nitronic Alloy 60

Tantalurn

Tintaiurn

Waspaloy

Zirconium

...and more!

NEED A QUOTE ON AN ALLOY?


CLICK HERE